Last Updated on January 17, 2023
Course overview
Social workers play a vital role in protecting vulnerable people in society. Our BA Social Work is regulated by Social Work England and includes all the essential professional elements required to qualify as a social worker. It combines academic modules that will develop core knowledge, values and skills, with practice-based learning in a variety of settings.
As a social worker, you could be working with children, older people, careers and people with disabilities in a role that is challenging but also incredibly rewarding.
Entry requirements
All candidates are considered on an individual basis and we accept a broad range of qualifications. The entrance requirements below apply to 2022 entry.
UK entry requirements
A level
ABB excluding general studies and critical thinking
Required subjects
GCSE English and maths, 4 (C) or above.We unfortunately do not accept Functional Skills or Adult Literacy and Numeracy certificates as equivalent to GCSE.
IB score
32
Mature students
At the University of Nottingham we have a valuable community of mature students and we appreciate their contribution to the wider student population. You can find lots of useful information on our mature students webpage.
Alternative qualifications
We encourage applications from all sections of the community including applicants who may be returning to work or changing career. Mature applicants, including those on Access courses and with alternative qualifications are encouraged to apply.
Access courses: Access to HE Diploma, preferably in social work or social sciences, with 45 credits at level 3, at least 30 of which must be at Merit or Distinction plus at least 6 level 3 credits in study skills
BTEC National Diplomas: Grades DDD, and the Diploma will preferably be in a subject area of direct relevance to social work (for example, the BTEC National Diploma in Health and Social Care)
Notes for applicants
The minimum age for entry is 18 years old. Applications must be made through UCAS. No applicant will be offered a place without an interview. Applicants who meet our initial entry criteria will be invited to an Assessment Day. This involves a short written test, assessed group discussion and interview with a social work lecturer, practising social worker and a service user. Assessment Days normally take place between December and April.
Although there is no requirement for prior experience of social work, applicants who have some relevant voluntary or paid experience in a helping role, or can demonstrate that they have personal insights or understandings to reflect upon are likely to produce a better personal statement and have more to draw upon during the interview.
If invited for interview, applicants are required to make a signed declaration regarding any health condition or criminal record and then complete a Disclosure and Barring Service check once registered on the course. Although a criminal record or a health condition is not necessarily a bar to acceptance, failure to disclose relevant information may subsequently result in the offer of a place or registration, being withdrawn.
From your application and interview, we look for:
evidence of motivation to become a social worker, shown by having a clear rationale for wanting to join the profession, and preferably some experience in a helping role
some understanding of the roles and responsibilities of social workers
some degree of self-awareness and empathy for others
the capacity to succeed academically
Learning and assessment
How you will learn
Teaching methods
Lectures
Seminars
Tutorials
Placements
How you will be assessed
Assessment methods
Coursework
Dissertation
Essay
Examinations
Presentation
Reflective portfolios
Contact time and study hours
A typical week will comprise of around 13 hours of teaching, split between lectures and seminars. In addition, you are expected to undertake 27 hours a week of self-directed study.
When on placement in years two and three, your hours will equate to full-time work; approximately 37 hours per week over five days.
Placements
Designed to help you develop the skills required to register as a qualified social worker and regulated by Social Work England, this course includes supervised placements in years two and three. You will be supported throughout the process with resources and supervision from our team here at Nottingham.
Through practice based learning – in a variety of settings and with a range of service users – you will be introduced to a variety of approaches to helping people. You will spend a total of 170 days in practice during your degree. Each period of practice learning will be assessed against the requirements of social work qualification training.
We have excellent links with statutory and voluntary agencies in the region, which provide practice learning opportunities for our students. We have an outstanding record of providing high-quality placements and recognise that this is a vital part of your learning. Students and practice assessors are well supported throughout the practice learning.
All placements are undertaken on a full-time basis and you are expected to work the same hours as other members of staff in that setting.
When allocating practice learning placements, care is taken to match individual learning needs and personal requirements to the opportunities offered within a particular organisation. Placements are normally within the geographical boundaries of Nottinghamshire and Derbyshire.
Modules
A total of 360 academic credits are taken over three years, divided into 120 credits per year. This is the equivalent of 40 hours of University-based study per week, or 40 hours per week of practice-based learning.
You will spend the first year based at the University, where you will explore social work's key functions and develop skills for social work practice. You will also study core aspects of sociology and social policy which underpin the profession's knowledge base.
Core modules
Communication Skills for Practice
The module introduces you to a range of theories, skills and evidence-based practice in relation to communication with service-users and carers. You will study theories of communication and perception. You will be assisted through group work, experiential learning exercises and self-reflection to develop basic skills for interviewing and assessment. These will be augmented by learning around theories and skills concerning work in group contexts and in situations of conflict where social workers are required to exercise professional authority.
Throughout the module your attention will be drawn to the values and ethics which underpin professional practice and the broad organisation, legal and policy context in which it takes place. You will be introduced to work with a diversity of service-user groups and required to consider the implications of this diversity for your mode of communication.
You will also be encouraged to develop a critical awareness of the various theoretical perspectives presented in the module alongside an ability to apply this knowledge to social work practice.Introducing Social Policy
Focusing on the main concepts and approaches to social policy, this module assumes little or no background knowledge. It looks at the means by which something is framed as a social problem, with particular reference to poverty and issues of exclusion.
You will be introduced to the main areas of social policy, mainly in the UK, and explore how different social groups experience social policies, the interaction of public, private, voluntary and informal sectors in welfare provision, and ways in which it is financed.Introduction to Social Work
This module will introduce you to the core knowledge, skills, ethics and values underpinning social work practice. You will be encouraged to develop a sense of what it means to be a reflective practitioner. You will be taught a range of approaches to social work practice, what it means to be 'professional' and the impact of the 'use of self'. You will explore the service user/carer perspective and underpinning anti-oppressive principles for working with inequality and diversity.
You will be given the opportunity to practice generic key skills and your understanding of the social work role through innovative teaching methods including role play and observations. You will also be given the opportunity to spend time shadowing and observing a social care practitioner in their work. This module incorporates three skills days.Investigating Social Worlds
This module introduces you to the nature of social research through exploration of the fundamental philosophical, methodological and ethical debates on 'how to think of social research' and 'how to do social research'.
The module begins with discussions of the primary features, functions and characteristics of social research, the distinctions between social research and other modes of investigating and producing knowledge about the social world and the steps typically involved in conducting social research.
Next, attention is focused on social research paradigms and how the different ontological, epistemological and methodological specificities map onto research questions, methods and designs. Attention will then be placed on some of the principal methods of data collection in the social sciences such as surveys, social experiments, interviews, visual methods, group discussions and observation.
The module concludes by examining issues of ethics, status, power and reflexivity in social research. Understanding Contemporary Society
The first part of the module introduces you to some of the contemporary and historical debates in social sciences in the 21st century.
The social sciences are centrally concerned with the investigation of a changing world and the recent arrival of the internet, globalisation, migration and other features will be investigated. However social science is a discipline with a long historical tradition. Here it is key that you have a working knowledge of Marx, Weber, Durkheim and Du Bois to understand the world of the 19th and early 20th century. The module explores the historical and contemporary relevance of these ideas.
The second part of the course mostly relies upon the social science thinking of the 20th and 21st century. Questions such as the impact of the arrival of the consumer society, the importance of difference and diversity, the role of utopia, the importance of art and social movements, the development of the network and mediated society, issues related to gender identity and sexuality, and our shared ideas about the urban setting and the future are all covered in this part of the course.
Overall, you will be introduced to a range of different perspectives in helping you understand a changing world.The above is a sample of the typical modules we offer but is not intended to be construed and/or relied upon as a definitive list of the modules that will be available in any given year. Modules (including methods of assessment) may change or be updated, or modules may be cancelled, over the duration of the course due to a number of reasons such as curriculum developments or staffing changes. Please refer to the module catalogue for information on available modules. This content was last updated on Thursday 14 January 2021.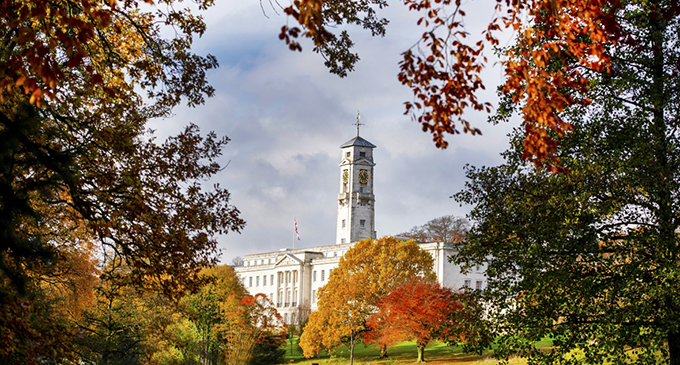 Where you will learn
University Park Campus
University Park Campus covers 300 acres, with green spaces, wildlife, period buildings and modern facilities. It is one of the UK's most beautiful and sustainable campuses, winning a national Green Flag award every year since 2003.
Most schools and departments are based here. You will have access to libraries, shops, cafes, the Students' Union, sports village and a health centre.
You can walk or cycle around campus. Free hopper buses connect you to our other campuses. Nottingham city centre is 15 minutes away by public bus or tram.
Fees and funding
UK students
£9,250Per year
International students
To be confirmed in 2021*Keep checking back for more information*For full details including fees for part-time students and reduced fees during your time studying abroad or on placement (where applicable), see our fees page.
If you are a student from the EU, EEA or Switzerland starting your course in the 2022/23 academic year, you will pay international tuition fees.
This does not apply to Irish students, who will be charged tuition fees at the same rate as UK students. UK nationals living in the EU, EEA and Switzerland will also continue to be eligible for 'home' fee status at UK universities until 31 December 2027.
For further guidance, check our Brexit information for future students.
Additional costs
As a student on this course, you should factor some additional costs into your budget, alongside your tuition fees and living expenses.
You should be able to access most of the books you'll need through our libraries, though you may wish to purchase your own copies or more specific titles.
The school covers the cost of a DBS check. The cost of travelling to social worker shadowing and to placements will be dependent on location of placement and proximity to term-time address.
Scholarships and bursaries
The University of Nottingham offers a wide range of bursaries and scholarships. These funds can provide you with an additional source of non-repayable financial help. For up to date information regarding tuition fees, visit our fees and finance pages.
Social Work bursaries
During years two and three, you may be eligible to apply for one of a limited number of social work bursaries. The NHS Business Services Authority administers this bursary scheme, which is subject to review.
The social work bursary is money over and above the financial support available to other undergraduate students and is intended to help with the costs of travel to and from placements and contribute towards tuition fees. Students who do not receive a full social work bursary, but who still meet residency criteria, may be eligible for a travel allowance to help with costs of travel to and from placement.
Eligibility for a social work bursary or travel allowance depends upon being 'ordinarily resident in England'; social work education in Northern Ireland, Scotland and Wales is funded separately and students from these parts of the UK will not be eligible for this funding. For those who are eligible, the social work bursary is non-income-related, which means that earnings, savings and other sources of income such as local authority funding are not taken into consideration.
Home students*
Over one third of our UK students receive our means-tested core bursary, worth up to £1,000 a year. Full details can be found on our financial support pages.
* A 'home' student is one who meets certain UK residence criteria. These are the same criteria as apply to eligibility for home funding from Student Finance.
International students
We offer a range of international undergraduate scholarships for high-achieving international scholars who can put their Nottingham degree to great use in their careers.International scholarships
Careers
Our graduates are valued by employers for their ability to:
develop an argument and justify it with evidence
write coherently and succinctly with a clear structure
complete work on time and to the specification required
think critically and challenge accepted ideas
select, collect and analyse relevant materials in order to carry out independent research
present their work verbally and in writing to a group
work as a team to achieve goals
Graduate destinations
While most of our graduates work as social workers in local authority children's or adults' services, some take up positions in the independent sector. Our graduates have gone on to work in organisations including Derby City Council, Framework Housing Association, and Nottinghamshire County Council.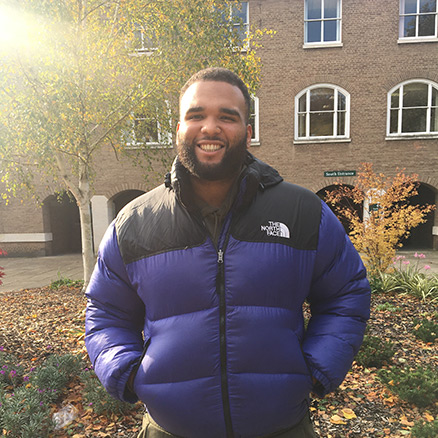 "There is a holistic coverage of all aspects of social work across the course. Teaching includes a range of modules and skill-days that feature practical and theory-based learning. The course is the perfect place to develop as a socially conscious person as well as a social work professional. "Lewis Elgie