Learn how to identify plants using basic botany terms and concepts in this online, self-paced class offered by The Morton Arboretum. Whether you are a natural resources volunteer or specialist, gardener, naturalist, or artist, this introductory course provides the fundamentals you need to get started identifying plants in Illinois, Wisconsin, Michigan, and beyond.
From the comfort of your home or office, you can use the self-paced online learning modules to learn about plant identification anytime. The educational slides in the featured in the learning modules are narrated by an Arboretum plant expert and are paired with interactive, no-pressure quizzes that will help you learn the vocabulary and concepts needed to name and identify plants as well as describe their structures and life histories.
How self-paced online classes work
To access the class, you will log into TreeLearning, the Arboretum's online learning portal. Instructions for accessing TreeLearning will be sent to registrants by email from [email protected] following registration. You have access to the course for 60 days and can complete the materials anytime.
Complete the self-paced e-learning modules with reading material, short videos, interactive activities, and quizzes to check your understanding.
The course will take approximately 90 minutes. The course does not need to be completed in one sitting.
Your instructor will not be online with you.
Course number: #W011-OD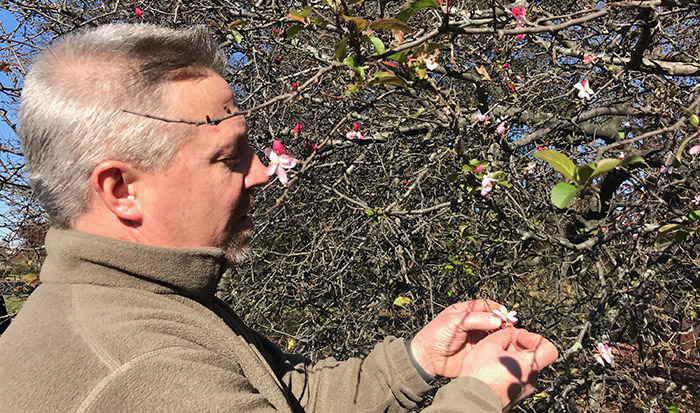 It's hard to properly install, prune, or maintain a plant if you don't know what it is, and this is why plant identification is so important. Is there an easy way to identify any plant?
No, but there are methods that make it easier. Ted Szczawinski's popular "Introduction to Plant Identification" class is online for the first time this year – and it can show you some of these methods. The class teaches students to unlock clues found in the bark, fruit, leaves, and flowers while teaching a step-by-step method designed to limit endless memorizing. The course mixes live, interactive lectures with short videos and other online resources. Below are some questions and answers from instructor Ted Szczawinski.
When did you first get interested in plants?
"I was 14 years old and a sophomore in high school. One of my favorite subjects was biology. "
When it comes to the subject of plant identification, what's the hardest thing for a student to learn?
"How to trust what they know and realize how a plant's environment influences its appearance."
How do you tackle this issue in your course?
"I discuss morphology, a term that describes how plant parts (size, shape and appearance of buds, foliage, flower, fruit, bark and form) are not standard and are not always exactly how they are depicted in drawings, pictures, or words. I realize that answer was pretty deep!"
Are you surprised at how well the class translates to an online format?
"Thanks to colleagues like Jim Orr, a licensed tree expert and instructor for the class, and Kira Svesko, a former IPI student and truly learned individual who has captured the process of identifying each plant's characteristics through short videos, we've been able to allow participants to have a simulated or virtual field experience. This teamwork and support has become essential in getting the right perspective and approach to changing an age old formula of face-to-face instructional activities and transitioning to a virtual experience."
Introduction to Plant Identification is a two-day online course that takes place February 3 – 4. The cost is $395 if you register before January 27 and $425 after that date. Here is the link to the course page where you can register:
How do I identify a plant with my phone?
Identifying a plant with your phone has never been easier, thanks to the plethora of plant identification apps available. Here's how you can use these apps to identify a plant:
Capture a Clear Photo: The first step is to take a clear photo of the plant you want to identify. Ensure that the image includes the leaves, flowers, and any distinctive features.
Install a Plant Identification App: Visit your device's app store and search for a plant identification app. Download and install one of the recommended apps.
Upload the Photo: Open the app and upload the photo you took. Some apps may also allow you to upload multiple images of different parts of the plant for better accuracy.
Wait for the Result: The app will analyze the photo using its database and provide you with the most likely plant species. It may also offer additional information about the plant.
Confirm the Identification: While the app can provide a probable identification, it's essential to verify it using other sources like field guides or expert opinions, especially if you're dealing with rare or less common plants.
Where do I start with plant identification?
Plant identification can be an exciting and educational hobby. If you're just starting, here are some steps to help you get going:
Take a Photo: Whenever you come across an unknown plant, take a clear photo of it. This will be crucial for identification.
Observe the Plant: Note the plant's size, shape, color, leaves, flowers, and any other unique characteristics.
Use Plant Identification Apps: As mentioned earlier, use plant identification apps to get a quick idea of what the plant might be.
Consult Field Guides: Invest in a good field guide for plants in your region. These books provide detailed information and high-quality images for identification.
Join Online Communities: There are many online forums and social media groups where you can share your plant photos and get assistance from experienced plant enthusiasts.
Consider Botanical Gardens: Local botanical gardens often have labeled plant collections that can help you learn and compare your finds.
Learn Botanical Terminology: Familiarize yourself with botanical terms to better describe and understand plants.
Attend Workshops and Courses: If you're passionate about plant identification, consider enrolling in workshops or courses on botany or plant taxonomy.
Is there an app to identify plants?
Yes, there are several apps designed to help you identify plants. Some of the most popular ones include:
PlantSnap: PlantSnap is a user-friendly app that boasts a large plant database. It's available for both Android and iOS devices.
iNaturalist: iNaturalist is a community-driven app that not only identifies plants but also allows you to contribute to scientific research.
PlantNet: PlantNet has a vast database and is known for its accuracy in identifying a wide variety of plants. It's available on both Android and iOS.
PictureThis: This app is user-friendly and provides detailed information about the plants it identifies. It's available for both Android and iOS devices.
Flora Incognita: Flora Incognita is focused on the flora of Central Europe and has a high level of accuracy.
Is there a 100% free plant identification?
While many plant identification apps offer free versions, it's essential to understand that most of them have limitations. They may offer a limited number of free identifications per day or provide basic information with the option to purchase a premium version for more features. That said, apps like iNaturalist and PlantNet offer a more community-based and research-oriented approach, allowing users to contribute and identify plants for free. While they may ask for contributions or offer premium features, you can still use them effectively without spending any money.
In conclusion, identifying plants with your phone is not only possible but also increasingly accessible. Whether you're a casual nature enthusiast or a dedicated botanist, there are free and paid apps available to suit your needs. Remember to use these apps as a starting point and verify your identifications through other sources for complete accuracy. Plant identification can be a rewarding and educational endeavor that connects you more closely with the natural world around you.