Tuition fees for international students
As an international fee paying student, you can be enrolled in either an award course or a non-award course.
The information below is for award course students. If you need non-award information, please visit international student non-award tuition fees.

The tuition fees you are charged for each study period depend on when you commenced your course. The fee rates shown below are for award courses. If you are enrolled in a non-award unit, you can check your tuition fees using the Deakin fee estimator.
How are my tuition fees calculated?
As an international student enrolled in an award course, the tuition fees you are charged will be calculated based on:
your course*
the year you started studying
your study load.
*If you commenced your course in 2015 or earlier your tuition fees are calculated based on the units you enrol in. This means your fees are based on the units you choose to study and not a fixed course price. Different units have different fees which depend on how much each unit costs the University to provide. For example, units which require laboratories or special equipment may cost more than units which do not. Fee rates are listed below.
You can estimate your tuition fees using the Deakin fee estimator or refer to the tables below.
Tuition fees can increase by up to 6% each academic year.
Find your course fee and unit EFTSL value
If you are unsure about your annual course fee* or the EFTSL value of a unit, please refer to the University Handbook for the year you are studying.
*Annual course fee generally means 8 credit points over the academic year or 1 EFTSL (Equivalent Full Time Study Load) unless otherwise explained.
Calculating your unit and course fees
Each unit you enrol in will have its own EFTSL value. To determine the cost of each unit, the following calculation should be used:
Annual course fee* x unit EFTSL value = unit price
For example:
Joe is studying A300 – Bachelor of Arts and undertaking unit ALR207 Media relations. Joe's tuition fee for this unit will be $3,775.00.
$30,200.00 x 0.125 = $3,775.00
* If you are undertaking a graduate certificate, the course fee displayed will be for 0.5 EFTSL so you will need to double it before using the above formula. Course fees shown are indicative.
Your course fee will be the total of all your unit fees.
Fee information for students who commenced in 2015 or earlier
To estimate your course fees, use the Deakin fee estimator or you can use the tables below as a guide.
2023 fees for students who commenced in 2015 or before
Undergraduate full fee
Postgraduate full fee
Higher Degrees by Research
If you are undertaking D302 Bachelor of Vision Science/Master of Optometry, the EFTSL undertaken each year is 1.5 EFTSL. You will need to double the rate shown to determine your annual course cost.
What is the fees of Deakin University?
Named after the second prime minister of Australia, Deakin University is a public university in Victoria, Australia. In 1974, the Federal Cabinet Welfare Committee decided that Deakin University will be Victoria's fourth university based in Geelong. Deakin Uni is the first Australian university to specialize in distance education and is in the top 1% of universities globally.
| | |
| --- | --- |
| Year of establishment | 1974 |
| Website | Go to Website |
| Accepted Exams | TOEFLPTE+1 More |
| Total International Students | 11878 |
| Size of Campus in acres | 67 |
| UG/PG Course Ratio | 1.86 |
| Endowments Value | Australian Dollar 1 billion |
| No.of Campuses | 5 |
| Accommodation expenses | 9328 AUD for 1 sharing (UG),11024 AUD for 1 sharing (PG) |
| International Students Website | Go to Website |
Does Deakin University give full scholarship to international students?
How much will my course cost?
Your tuition fees will vary depending on your course and the year you start. Our fees estimator tool will give you a better idea of your study costs. Remember, this is a guide only as tuition fees can change from year to year.
When do I pay my fees?
Before you enrol, you will need to make an upfront fee payment to Deakin to accept your offer. This information is in your Letter of Offer. This payment will be based on full-time enrolment. The actual fees you will be charged may differ once you select your units. When you make the payment, we issue you a Confirmation of Enrolment (CoE). You can then apply for your student visa.
Defer your offer and pay later
We understand that sometimes plans change. You can defer your offer until you are able to pay your fees in full.
How to get a refund
Life can sometimes get in the way of study. We may be able to offer you a partial or full refund if you need to withdraw from a unit or your course.
Learn more about our refund policy
Are you a current international student?
If you are currently studying with us, you can find detailed fee information on our student site.
Read current student fee information
How to pay your fees
Accept your offer with Deakin's international student application service StudyLink Connect, then pay your fees through the payment portal or use one of our online international payment providers.
Deakin's payment portal
Log in to StudyLink Connect and pay via credit card, FlyWire or PayPal. The portal will list your full deposit amount – you cannot pay in instalments through the portal. Contact our friendly admissions team at [email protected] or +61 3 9251 7757 for help.
Other payment options
You can pay your deposit in part or in full through our preferred international payment providers FlyWire, Convera GlobalPay or financial guarantee (for sponsored students). For help, contact the Flywire customer support team at [email protected] or +61 2 8311 4772, or contact the Convera student enquiries team at [email protected] or +61 2 8585 7351.
Benefits of paying online
Use one of our preferred online payment options and benefit from:
fast online payments
a quick acceptance process (apply for a student visa sooner)
no hidden charges
payment tracking
instant processing if you use PayPal or a credit card
locked in currency conversion rate (72 hours for certain transactions).
How to pay your accommodation and living costs
We're here to help you find accommodation in Australia, whether you want to experience living on or off campus. Discover more about your accommodation options and everyday living costs.
Learn more about accommodation and living costs
The scholarship provides international students with [a] 25% accommodation fee discount, which enabled my family to provide me with enough financial support.
Helena
Bachelor of Commerce graduate, Deakin Vice-Chancellor's International Scholarship recipient
Find an international scholarship
We are proud to support international students with a range of scholarship opportunities. Be recognised for your high academic achievements or your potential to make a positive contribution to the University and its community. Use our find a scholarship tool to discover scholarships.
Deakin Vice-Chancellor's International Scholarship
Have you achieved an 85% average in your previous studies? You could have all or 50% of your tuition fees paid and be part of the Vice-Chancellor's Professional Excellence Program.
Deakin International Scholarship
Are you a high achiever who wants to make a positive contribution to the University and its communities? You could have 25% of your tuition fees paid.
Deakin STEM Scholarship
Applying for an undergraduate or postgraduate degree within the Faculty of Science, Engineering and Built Environment? You could have 20% of your tuition fees paid.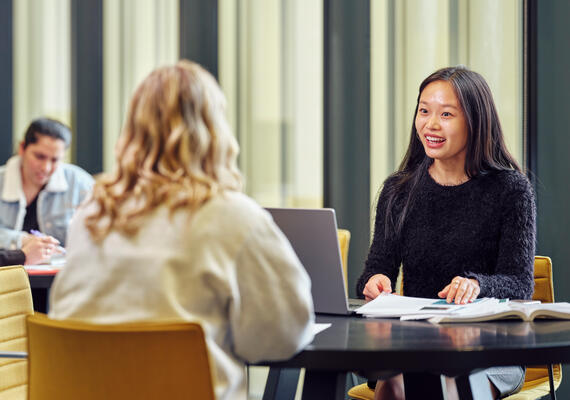 Australian Awards scholarships
The Australian Government offers several scholarships to international students from 28 partner countries. These scholarships are for full-time study in Australia towards an undergraduate or postgraduate degree. Benefits include return airfare to Australia, health cover, academic and other compulsory fees, an establishment allowance and a basic living allowance.