If you are unable to attend an Information Session in person, please review the PowerPoint, if you have any questions about the program, email [email protected]. Once you've viewed the presentation, complete the Medical Assisting Information Session Quiz to record your attendance.
Information Session PowerPoint (.pptx)
Once you've completed the quiz you can apply to the program using our online application. Application deadline: August 10, 2023.
Medical Assisting is a lock-step program. Once in the program, you must take the MAT classes in order. All classes are during the day.
Information Packets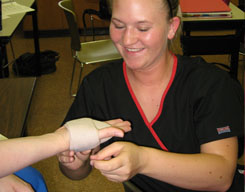 To obtain an information packet, please use the link below to print a copy.
Applicants to our program must first apply to the college.
Applications to the Medical Assisting program are only available at an information session.
Health Record Form
You will need to complete the Health Record Form before you enter the program. Please submit it to
Health Records
Union Hall 132
Vanessa Lang, Program Coordinator
(614) 287-2450

APPLICATION DEADLINE IS AUGUST 10th FOR ENTRY INTO AUTUMN SEMESTER EACH YEAR.
This program requires both a BCI and drug testing – DO NOT proceed with this step until you have been instructed to do so.
All students who wish to enter the Medical Assisting Program must comply with the following requirements:
1. Admissions Criteria/Requirements:
The Medical Assisting Program is a rigorous program of study. Admission criteria includes specific college courses. All admission courses must be completed with a grade "C" or above.
Applications for admission to the program may be submitted prior to completion of all admission criteria. The application will be evaluated based on completion of the following admission requirements:
Biology: Placement into BIO 0100 or ENGL 1100.
English: Placement into ENGL 1100 or completion of ENGL 0190
Reading: Placement of "No Reading Required" or completion of DEV 0145
Math: Placement into MATH 1104 or STAT 1350, or completion of MATH 1025, 1030, 1050, 1075, or 1099.
CPR and First Aid: Completion of MULT 1130, or current American Red Cross or American Heart Association Health Care Provider CPR with AED Certification and First Aid Certification.
* A minimum grade of "C" or higher is required.
Students who are awarded transfer credit by Columbus State for MATH 1025, ENGL 1100, or BIO 1100 will be considered to have met the requirements for the respective coursework.
Placement Testing: All placement testing deficiencies including the requirement for reading skills or completion of DEV courses must be done by application deadline. To take the placement test you must first apply to Columbus State before taking the placement tests.
Achievement of a minimum GPA of 2.00 on a 4 point scale based on the completion of courses at the college most recently attended or Columbus State Community College. A minimum GPA of 2.0 must be maintained throughout the length of the Medical Assisting Program and all Technical (T) courses completed with a grade of "C" or above (see Plan of Study).Attendance at a Medical Assisting Information Session for the current application period.
2. Required Documentation to be submitted to the Admissions/Records and Registration Office:
Final official high school transcript (sent directly by the high school to Columbus State) verifying date of graduation OR General Education Development (GED) test results with a minimum average standard score of 45 and a minimum of 35 in each subject.
Official transcripts from other college(s) attended sent by the college directly to Columbus State.
Application to Columbus State (if not a current student).
International Students: See section 3-F

3. Required Documentation to be submitted to the Medical Assisting Program (all students)
Medical Assisting Program Application
Copy of final high school transcript verifying date of graduation OR General Education Development (GED) test results
Current American Red Cross Health Care Provide CPR with AED Certification or completion of MULT 1130
Responding to Emergencies.Current American Red Cross First Aid Certification or completion of MULT 1130 Responding to Emergencies.
Copy of transcripts (unofficial copy is acceptable) from other college(s) attended (these will be cross-verified with the Admissions Office).
Placement test results.
Students who have attended other colleges must have their official transcripts ALSO sent to Records and Registration where the transcripts will be evaluated for transfer credit. This must be completed BEFORE submitting the Medical Assisting application. If you are not currently a Columbus State student, you must submit a Columbus State application prior to submitting your transcripts for evaluation. In order for transcript evaluation to occur by the application deadline, transcripts must be submitted to Records and Registration by February 1st. All transcripts must be evaluated and transfer credit posted by the application deadline.
International Students: As well as submitting the above information in #3 A through E, international students must also submit foreign high school AND college transcripts to one of the following transcript evaluation agencies:
Educational Credential Evaluators, Inc., at http://www.ece.org OR,
World Education Services at http://www.wes.org
Check for deadlines for submission of transcripts to the evaluation agency. The cost of the evaluation is the responsibility of the student. Please ask the agency to send one copy of the completed evaluation directly to: Columbus State Community College, ATTN: Office of the Registrar, 550 E. Spring Street, P.O. Box 1609, Columbus, Ohio 43215
You will also need DEV 031 equivalent at Columbus State OR High School Algebra II (verified by transcript evaluation).

4. Additional Admission Information:
If you are not a current or previous Columbus State student, you may Apply Online or, you may enroll over the telephone by calling (614) 287-5353, or (800)621-6407. You may also visit the Welcome Center located in Madison Hall.
For information regarding placement testing, contact the COMPASS Lab, located in Madison Hall, Room 255, telephone number (614) 287-3602 or (800) 621-6407, extension 3602.
C. All students who are accepted into the program will be expected to attend a mandatory orientation session in the summer and to complete a series of "Health Record" forms and immunizations. Students who fail to complete record requirements by will relinquish their place in the program. Accepted students will receive written information regarding these requirements in their acceptance packets.

5. Statement Regarding Infectious Diseases:
Students in any of the Allied Health Programs, including Medical Assisting, perform their clinical work on real people. Columbus State does not discriminate against students, faculty, or patients in any way, or based on color, creed, national origin, gender, disability or sexual preference. The patient populations with whom we work come from all walks of life, and the students may therefore be exposed to many types of communicable diseases. These are not limited to but may include hepatitis (A, B, C, or D), HIV/AIDS, TB, measles, mumps, rubella, rubeola, COVID-19, etc. All students entering the Medical Assisting Program must be aware of this slight, but real potential.
All students are required to have personal health insurance in effect by the first day of class, or sign an Insurance Waiver Form
For further information regarding the program requirements, please email Fauna Stout, Program Coordinator at [email protected]
To receive information regarding Information Sessions, please email [email protected].
To contact the Health Records Office regarding your student health record requirements go to Union Hall 132 or call 287-2450.
Medical Assisting Occupational Risks
Medical Assisting is a profession with many rewards, as practitioners may perform both administrative and clinical services, filling several roles in a variety of healthcare environments. The Bureau of Labor Statistics identifies medical assisting as a growth field, with an anticipated 18% growth from 2020 to 2030.
Medical Assistants work directly with providers and patients, with the goal of providing healthcare and ensuring patient safety. It is a position with a great deal of responsibility.
As with any healthcare position, there are occupational risks that may come into play with being a medical assistant. These potential hazards include the following:
Exposure to infectious diseases
Sharps (needles, scissors, etc.) injuries
Bloodborne pathogens and biological hazards
Chemical and drug exposure
Bodily injuries from lifting, sitting, and repetitive tasks
Latex allergies
Stress
At the same time, there are protections set up through the Occupational Safety and Health Act (OSHA), that are particularly important within a healthcare environment. OSHA has a series of standards that protect the safety of healthcare workers and patients.
Accredited medical assisting programs, such as Columbus State's Medical Assisting program, are required to teach students about the hazards that they face on the job and the protocols that may be put into place to ensure a workplace culture that prioritizes safety.
Columbus State Community College Overview
Columbus State Community College, often referred to simply as Columbus State, is a renowned institution located in the heart of Ohio's capital city. As a community college, CSCC is known for providing accessible and high-quality education to a diverse student body. It serves as an excellent starting point for students who wish to begin their academic journey, explore various degree programs, or prepare for transfer to a four-year institution.
Columbus State Community College Application Requirements
When applying to Columbus State Community College, there are specific requirements and documents you will need to submit to complete your application. Here is a breakdown of the key application requirements:
Online Application: To begin your journey at Columbus State, you must start by completing the online application. The application is available on the Columbus State website and is typically free of charge.
High School Transcripts: You will need to provide your official high school transcripts, or equivalent documentation, demonstrating that you have graduated or earned a GED. If you are a high school student who has not yet graduated, you may also be required to provide a letter of recommendation from your school counselor.
College Transcripts (if applicable): If you have attended other colleges or universities, you will need to submit official transcripts from those institutions as well. This is particularly important if you plan to transfer credits to Columbus State.
ACT or SAT Scores: Columbus State Community College does not require ACT or SAT scores for admission. This makes the college particularly appealing for students who may not have taken these standardized tests or do not wish to submit their scores.
Placement Testing: Columbus State may require you to take a placement test, such as the ACCUPLACER, to determine your readiness for college-level coursework. The results of this test will help determine your course placement.
Immunization Records: CSCC may also request proof of immunization, especially for students pursuing health-related programs.
Residency Documentation: If you are seeking in-state tuition rates, you will need to provide documentation proving your Ohio residency. Out-of-state students should be prepared to pay higher tuition rates.
Application Fee: Columbus State Community College typically has a nominal application fee, which is subject to change. However, the college frequently offers application fee waivers or discounts for certain groups, such as veterans or high school students taking College Credit Plus (CCP) courses.
Personal Statement/Essay: Some programs at Columbus State may require a personal statement or essay as part of the application process. Be sure to check the specific requirements for your chosen program.
Columbus State Community College Application Deadline
Columbus State Community College operates on a rolling admissions system. This means that applications are accepted year-round, and students can start their studies in any semester – fall, spring, or summer. However, it's essential to apply as early as possible to secure your preferred courses and the best financial aid options.
While there is no strict application deadline, Columbus State recommends applying at least three to four months before your intended start date to ensure a smooth transition into the college.
Columbus State Community College ACT and GPA Requirements
One of the appealing aspects of Columbus State Community College is that it does not have strict ACT or GPA requirements for admission. Unlike many four-year institutions, Columbus State emphasizes accessibility and inclusivity, making it a great option for students with diverse backgrounds and academic histories.
With no ACT or SAT score requirements, Columbus State takes a holistic approach to evaluating applicants. The college values factors such as high school or college transcripts, placement test scores, and personal statements, if applicable, when assessing a student's readiness for college-level coursework.
That being said, it's still important to perform well academically in high school or any college coursework you have completed. A strong academic record can open doors to more scholarship opportunities and enhance your chances of success at Columbus State.
In conclusion, Columbus State Community College's application requirements, deadlines, and admission criteria are designed to be accessible and accommodating to a wide range of students. Whether you're a recent high school graduate, a transfer student, or someone returning to education later in life, Columbus State offers a welcoming environment and the tools you need to succeed in your academic journey. So, if you're considering CSCC, don't hesitate to explore the opportunities it has to offer. Apply early, prepare your documents, and take the first step toward a brighter future through Columbus State Community College.