The consecutive Petroleum Engineering programme of the Clausthal University of Technology trains students specifically for the fields of drilling and production, reservoir management, energy storage and distribution, and deep geothermal systems.
Even in this era of transformation for climate protection and the energy system, the fossil fuels oil and natural gas remain an essential pillar of our society. By further developing traditional petroleum engineering techniques and new fields of application, such as the storage of energy generated through renewable sources and the use of deep geothermal systems, modern petroleum engineers make it possible to place the energy supply of the future on a more environmentally friendly footing. The consecutive master's program in petroleum engineering trains students specifically for the fields of drilling and production, reservoir management, energy storage and distribution, and deep geothermal systems.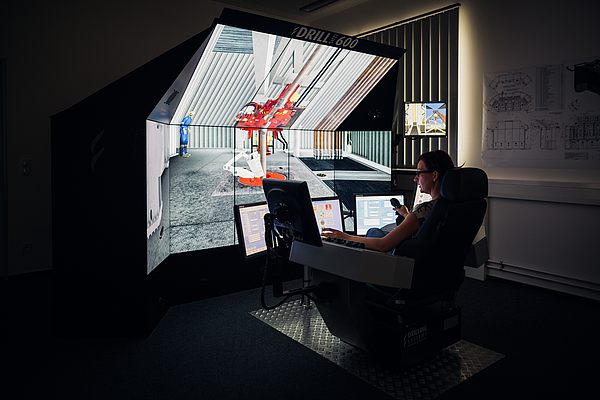 Jobs and careers
The demand for well-trained engineers in the field of petroleum technology and deep geothermal systems remains high. With its strong focus on practical application, this program qualifies graduates to carry out independent work as well as planning and leadership roles in and around the globally active petroleum industry. Such tasks include assessment and evaluation of oil and gas reserves, development and economic production, treatment of oil and natural gas, and storage and transportation of marketable products. Additional fields of professional activity involve energy storage and the use of the inner earth for geothermal energy and geological sequestration of CO2.
Potential employers for graduates of the master's program include:
Companies in the petroleum industry
Energy supply and storage companies
Companies providing service and support functions for the industry
Associations and public bodies
Research facilities and universities
Engineering firms
Corporate consultancies
Why Clausthal?
The master's program in petroleum engineering at TU Clausthal deepens students' expertise and imparts interdisciplinary knowledge. The M.Sc. degree qualifies graduates to continue their professional training with doctorate (Ph.D.) studies in engineering. The program is located at the Institute of Petroleum Engineering, which has superb equipment and highly qualified research and teaching staff, and is one of the few facilities of its kind in Germany. The program's content is tailored to needs that have been identified by the petroleum industry. Supported by external lecturers from private industry, the program is very much geared towards real-world application. It is international in its perspective and is taught in English.
Program structure
The master's program is designed to be completed over the course of four semesters (two years) and encompasses 15 modules. It is taught in English. The modular structure encompasses in-depth study of petroleum engineering, management, economics, and law. Students can cement their specialist knowledge and management skills through an optional semester abroad at a partner university, through hands-on project work in a petroleum company, or through an interdisciplinary group project. The program concludes with a master's thesis. Three areas of specialization are available:
Reservoir management
Drilling and production
Deep geothermal systems
Focus Reservoir Management
Communication
Management, economics and law
Advanced reservoir mechanics
Advanced production and well planning
Data acquisition and evaluation
Reservoir modeling and simulation
Enhanced hydrocarbon recovery
Seminar in advanced reservoir topics
Group project
Master's thesis
Focus Drilling and Production
Communication
Management, economics and law
Advanced reservoir mechanics
Advanced production and well planning
Advanced drilling and completion
Directional drilling and logging
Production
Seminar in advanced drilling and production topics
Group project
Master's thesis
Focus Deep Geothermal Systems
Communication
Management, economics and law
Advanced reservoir mechanics
Advanced production and well planning
Data acquisition and evaluation
Advanced drilling and completion
Geothermal systems
Seminar in advanced geothermal engineering topics
Group project
Master's thesis
Petroleum engineering is a field of study that lies at the intersection of engineering, geology, and technology. It plays a crucial role in the extraction, production, and management of oil and gas resources, making it a highly sought-after discipline. As aspiring petroleum engineers, choosing the right university is essential. In this blog, we'll explore which universities are considered the best for petroleum engineering, understand the concept of petroleum engineering technology, and delve into petroleum engineering in Australia, with a particular focus on TU Clausthal.
Which University is the Best in Petroleum Engineering?
Determining the "best" university for petroleum engineering can be a subjective task as it depends on your specific goals, interests, and where you want to study. However, several universities worldwide are renowned for their strong petroleum engineering programs. Some of the top universities for petroleum engineering include:
Stanford University: Stanford is celebrated for its cutting-edge research and innovation in petroleum engineering. It offers a variety of programs and has strong industry connections.
Texas A&M University: Texas A&M is known for its extensive research facilities, industry partnerships, and excellent faculty in petroleum engineering.
University of Texas at Austin: UT Austin boasts a prestigious petroleum engineering program with a strong emphasis on field experience and research.
Imperial College London: For those looking to study abroad, Imperial College in the UK offers a reputable petroleum engineering program with a focus on global energy challenges.
University of Oklahoma: The Mewbourne School of Petroleum and Geological Engineering at the University of Oklahoma is highly regarded for its petroleum engineering programs.
It's important to research each university's specific strengths, faculty, research opportunities, and industry connections to find the best fit for your educational journey.
What is Petroleum Engineering Technology?
Petroleum Engineering Technology, sometimes referred to as Petroleum Engineering Technology (PET), is a specialization within petroleum engineering. It emphasizes practical applications of engineering principles and technology in the petroleum industry. Students in this program learn how to manage and maintain equipment and systems related to oil and gas exploration, production, and refining. They may also study safety and environmental compliance aspects of the industry.
PET graduates often work as engineering technologists, assisting petroleum engineers in various tasks. This field offers a more hands-on and practical approach to the petroleum industry compared to traditional petroleum engineering, which tends to focus on design, analysis, and project management.
Petroleum Engineering Universities in Australia:
Australia is home to several institutions known for their strong engineering programs, including petroleum engineering. Some notable universities in Australia offering petroleum engineering programs include:
University of New South Wales (UNSW): UNSW offers a Bachelor of Petroleum Engineering program with a strong focus on practical skills and research.
Curtin University: Curtin University's petroleum engineering programs are well-regarded and have a strong industry connection due to its location in Western Australia, a hub of the resource industry.
University of Adelaide: The University of Adelaide offers a Bachelor of Engineering (Petroleum) program, equipping students with skills and knowledge relevant to the oil and gas sector.
Petroleum Engineering at TU Clausthal:
TU Clausthal, also known as Clausthal University of Technology, is located in Germany and offers a comprehensive program in petroleum engineering. The university is known for its strong engineering focus and research contributions to the field. Students at TU Clausthal receive a well-rounded education in petroleum engineering, including reservoir engineering, drilling technology, and geothermal energy.
Clausthal University of Technology Application:
The application process to TU Clausthal may vary depending on your nationality and the specific program you wish to apply for. It's essential to visit the university's official website or contact their admissions office for the most up-to-date information regarding application requirements, deadlines, and procedures. Typically, international students are required to provide proof of language proficiency, academic transcripts, and sometimes letters of recommendation.
In conclusion, choosing the right university for petroleum engineering is a crucial step in your educational and career journey. Research the strengths of each institution, evaluate their industry connections, and consider your individual goals and preferences to make an informed decision. Whether you choose to study in the USA, Australia, Germany, or elsewhere, a strong petroleum engineering program can be your gateway to a fulfilling and rewarding career in the energy sector.