Are you interested in pursuing a career as a dental hygienist in Canada? Being a Dental Hygienist is a rewarding and in-demand profession that involves working closely with patients to maintain their oral health. In Canada, dental hygiene and dentistry are regarded as different and distinct health professions. If you're considering a career path as a dental hygienist, here's what you need to know about the dental hygienist education requirements in Canada to embark on this fulfilling career.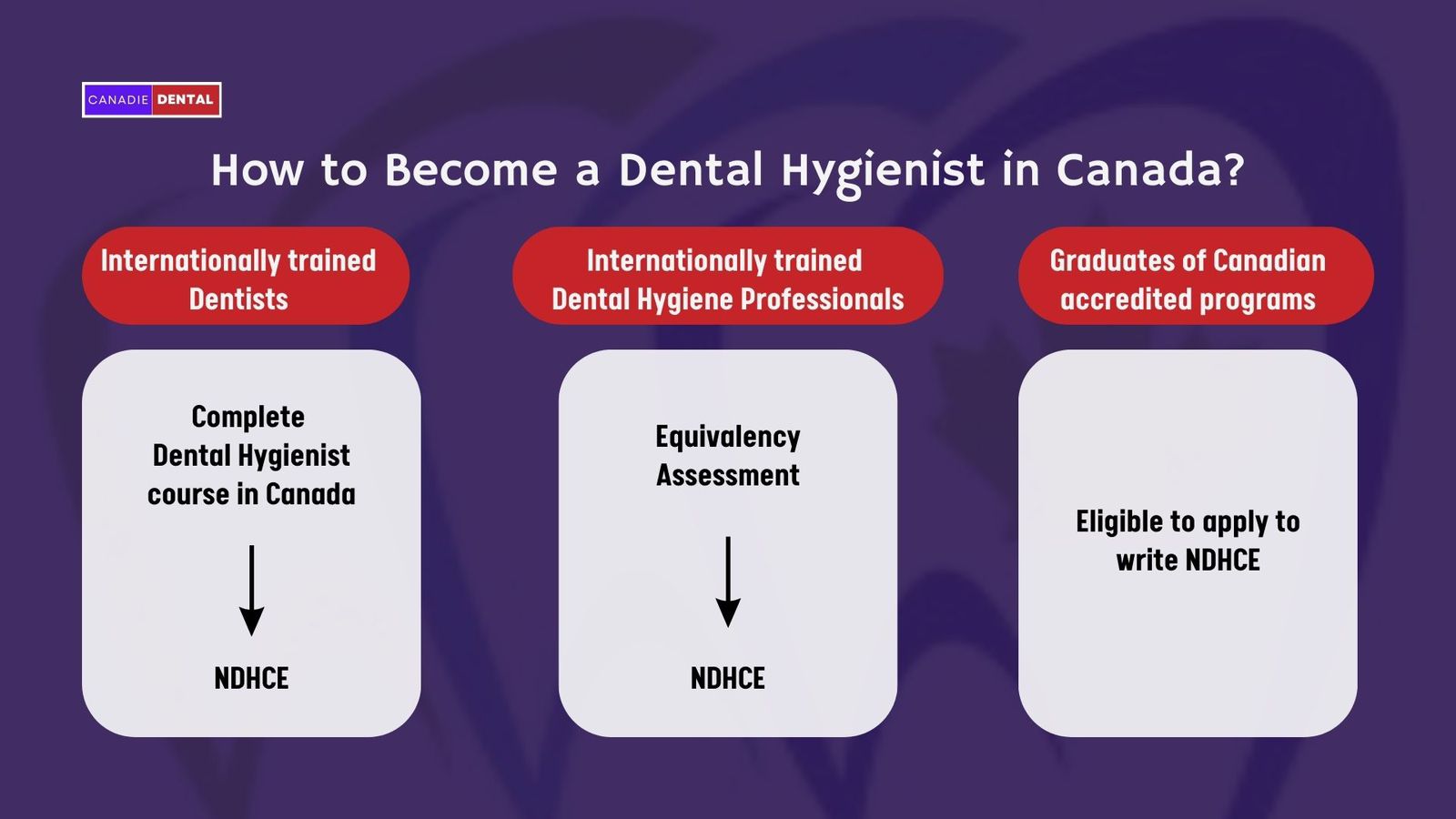 Education Requirements
FOR INTERNATIONAL DENTISTS
If you are a foreign-trained dentist aspiring to become a dental hygienist in Ontario, Canada, you will need to complete an accredited dental hygienist course (1-3 years) in Canada to meet the requirements for certification as a dental hygienist in the province.
Following is the list of some colleges that offer Dental Hygienist programs in Canada,
University of Manitoba
University of Alberta
Dalhousie University
George Brown College
Vancouver Community College
Southern Ontario Dental College
Georgian College
Niagara College
Durham College
Camosun College
You may find out more about pursuing dental hygienist courses in Canada by visiting CDAC (cda-adc.ca)
FOR INTERNATIONALLY TRAINED DENTAL HYGIENE PROFESSIONALS AND GRADUATES OF CANADIAN NON-ACCREDITED PROGRAMS
If you are an internationally trained dental hygienist or a graduate of a Canadian non-accredited dental hygienist program, you must apply for an equivalency assessment of your education and professional credentials to FDHRC (Federation of Dental Hygiene Regulators of Canada) to determine the eligibility and requirements for enrolling in a dental hygienist course in Canada for international students.
GRADUATES OF CANADIAN ACCREDITED PROGRAMS
If you have graduated from a Commission on Dental Accreditation of Canada (CDAC) accredited program in Canada, you are eligible to apply to write the National Dental Hygiene Certification Examination (NDHCE).
NATIONAL DENTAL HYGIENE CERTIFICATION EXAM (NDHCE)
After completing your education or equivalency assessment, you will need to pass the National Dental Hygiene Certification exam in order to be a certified dental hygienist in Canada.
NDHCE is conducted 3 times a year in
You can find NDHCE reference materials, sample questions, and preparatory tests on their official website.
AFTER THE NDHCE EXAM
You can expect your results in the mail within six weeks after you wrote the NDHCE exam.
If you have passed the exam, you will receive your NDHCE Certificate with a unique National Certification number, with your results letter. You have to then register with the jurisdiction you wish to practice.
Once you have completed these steps, you can begin working as a dental hygienist in Canada. As a dental hygienist, you will work closely with dentists and other oral health professionals to provide preventive care, such as cleaning teeth and applying fluoride treatments, to patients. You will also educate patients on oral health care and help to identify and treat oral health issues.
Salary Range of Dental Hygienists in Canada
On average, dental hygienists in Canada earn between C$31 – C$71(according to payscale.com). Entry-level positions or those with less experience may start at the lower end of the range, while hygienists with several years of experience or those working in high-demand areas can earn salaries at the higher end of the range or even higher. It is important to note that this range may vary from province to province.
FAQ for Foreign Trained Dental Hygienists
A license is required in order to practice as a dental hygienist in the United States (U.S.). To obtain a license, you must be a graduate of an accredited U.S. dental hygiene program, take and pass the National Board Dental Hygiene Examination and a state or regional clinical licensure exam. Specifically, an applicant must meet the following requirements:
Graduate from a dental hygiene education program accredited by the American Dental Association (ADA) Commission on Dental Accreditation (CODA).
Successful completion of the written National Board Dental Hygiene Examination (NBDHE) administered by the American Dental Association Joint Commission on National Dental Examinations (JCNDE).
Successful completion of the Clinical State or Regional Board Examination.
Upon completion of the above items, one must then apply for licensure in the state where he/she wishes to practice and successfully complete a state jurisprudence examination.
Dental hygienists and dentists who have not graduated from a CODA accredited program may not take the NBDHE without first submitting evidence to the JCNDE that the program attended is equivalent to an accredited program.
Canadian Programs
By reciprocal agreement, programs that are accredited by the Commission on Dental Accreditation of Canada (CDAC) are recognized by the Commission on Dental Accreditation (CODA). However, individuals attending dental programs in one country and planning to practice in another country should carefully investigate the requirements of the licensing jurisdiction where they wish to practice. For additional information, please visit the Canadian Dental Association website at http://www.cda- adc.ca/cdacweb/en/.
International Dentists/Dental Hygienists
All graduates of non-accredited dental programs not accredited by CODA or CDAC must have their official dental school transcripts evaluated by the Educational Credential Evaluators (www.ece.org), and must meet all other eligibility requirements to take the NBDHE. ECE does not evaluate dental hygiene. Please refer to the NBDHE Guide for specific information.
Should you decide to study dental hygiene in the United States, you should begin to think about the type of degree you wish to earn and the type of dental hygiene program to attend. A listing of all accredited dental hygiene programs in the United States can be found here .
Dental hygiene programs are typically 3-4 years in length and are located in Universities, Community Colleges and Technical schools. Graduates of accredited dental hygiene programs may be awarded a certificate, associate or baccalaureate degree.
Colleges and Universities that accept students from outside the United States require a Test of English as a Foreign Language or TOEFL test. TOEFL requirements will also vary from school to school.
All dental hygiene programs will require some type of prerequisites. Any courses taken outside of the U.S., such as those taken in your professional course of study; will probably need to be evaluated by a transcript service to ensure that they are compatible with courses offered here. The dental hygiene programs will then decide whether these previous courses may be accepted toward the degree offered at their school.
For specific information about applying for licensure in the state where one wishes to work, contact the appropriate licensing authority for information about application procedures and requirements. A listing of these state licensing authorities can be found in the Licensure section of our website under "Learn More".
For specific information about the regional or state clinical examinations contact the appropriate examining agency for information about eligibility requirements and the application process.
NBDHE is administered by the ADA. For additional information regarding the NBDHE, contact the Joint Commission on Dental Examinations.