BCom Honours (Marketing Management)
UJ BCom Honours in Marketing Management degree
The BCom (Hons) in Marketing Management degree is one of the most sought after and popular marketing qualifications in the country and proudly boasts a number of successful alumni that are employed across the corporate sector in South Africa, as well as alumni that are the proud owners of successful businesses. Visit our UJ Marketing graduates page to learn more.  This qualification exposes students to a number of different components in the marketing field, whilst strongly focusing on developing 1) theoretical knowledge, 2) critical and strategic thinking, but most importantly 3) practical marketing learning and experience by assigning students with real-life marketing projects and challenges from a number of industry partners and corporates.   

APPLY NOW for the UJ BCom (Hons) in Marketing Management degree 
| | |
| --- | --- |
| Application closing date | Last working Friday of every September at 12pm |
| Duration of study | 1 year, full-time and 2 years part-time |
| Campus the qualification is based on | UJ, Kingsway Campus (APK) |
| Contact details | Ms N Cunningham011 559 1421/1414[email protected] |

What are the entry requirements for the BCom Honours in Marketing Management?

The popularity of the BCom Honours programme results in hundreds of student applications per year. Students are therefore strictly selected based on academic merit, and this means that even if an applicant meets the criteria outlined below, acceptance is not guaranteed.
Access will be provided to students in possession of a BCom, BTech, Advanced Diploma in Retailing and Advanced Diploma in Marketing, or an equivalent Marketing Management qualification on NQF Level 7 with majors in Marketing Management (including a Strategic Marketing Management or Retail equivalent module) and Marketing Research.
A student must have attained a minimum of 65% in his/her Marketing Management (including a Strategic Marketing Management or Retail equivalent module) and Marketing Research majors at NQF Level 7 and Accounting and/or Financial Management, Analytical Techniques and/or Quantitative Techniques and Marketing or related module must form part of the undergraduate degree.
Students who have a BCom qualification, but who do not have Marketing Management at NQF Level 7, must first complete the Level 7 undergraduate modules in Marketing Management and pass it with a final mark of at least 65%.
A student who obtained a BA (Marketing Communication) needs to comply with the BCom in Marketing Management undergraduate degree requirements.
A potential student must have adequate English language proficiency by passing a literacy test.
Selection may include an interview.
How do I apply for the BCom Honours in Marketing Management?
Applications open annually at the beginning of July and close on the 28th of September at 12pm (no late applications are reviewed). The application process is purely online and can be accessed here, no email or paper-based applications will be reviewed. Please visit UJ's website to apply. Should you experience problems with the online system please contact the Student Enrolment Centre on 011 559 4555.
Points to keep in mind:
The initial screening process is based on your first semester 3rd year results (if you are still completing your degree) or based on your final 3rd year/BTech results if you have already completed the degree.
If you have studied or are studying at another university:

Currently studying – if you are applying when you are in your final (3rd year) you need to upload a University stamped copy of your academic record including the first semester results of your 3rd year.
Completed degree – when applying you must upload a University stamped copy of your academic record and certified copy of your degree certificate
If your documents are not stamped this will result in your application being declined based on insufficient documentation provided.

UJ student:

You do not need to upload your academic record – your academic record will be linked to your application automatically.
What are the costs involved to study the BCom Honours in Marketing Management degree?
The fees are approximately R35 000 per year (full-time studies) however the fees are adjusted annually and cannot be confirmed by the Department (only Student Finance can confirm – 0115593935). Please visit www.uj.ac.za/cbe and click on bursaries to view potential bursary opportunities. You can also visit the UJ Postgraduate studies homepage here to view further bursary and funding opportunities.
How long does it take to complete the BCon Honours in Marketing Management degree?
The programme is offered on a full-time (1 year) or part-time basis (2 years):
| | |
| --- | --- |
| FULL-TIMECompleted in 12 monthsRegister for eight modules completed (four in the first semester, three in the second semester and one year module) | PART-TIMECompleted in 24 monthsFirst year (two semester modules and one year module)Register for the remaining five modules in the second year |

When are the classes offered for the BCom Honours Marketing management degree?
The classes are offered after-hours (starting at 17:30*) during the week and are compulsory for students to attend.
*Subject to change.

What modules are offered on the BCom Honours Marketing Management degree – what will I study and learn?
FULL-TIME CURRICULUM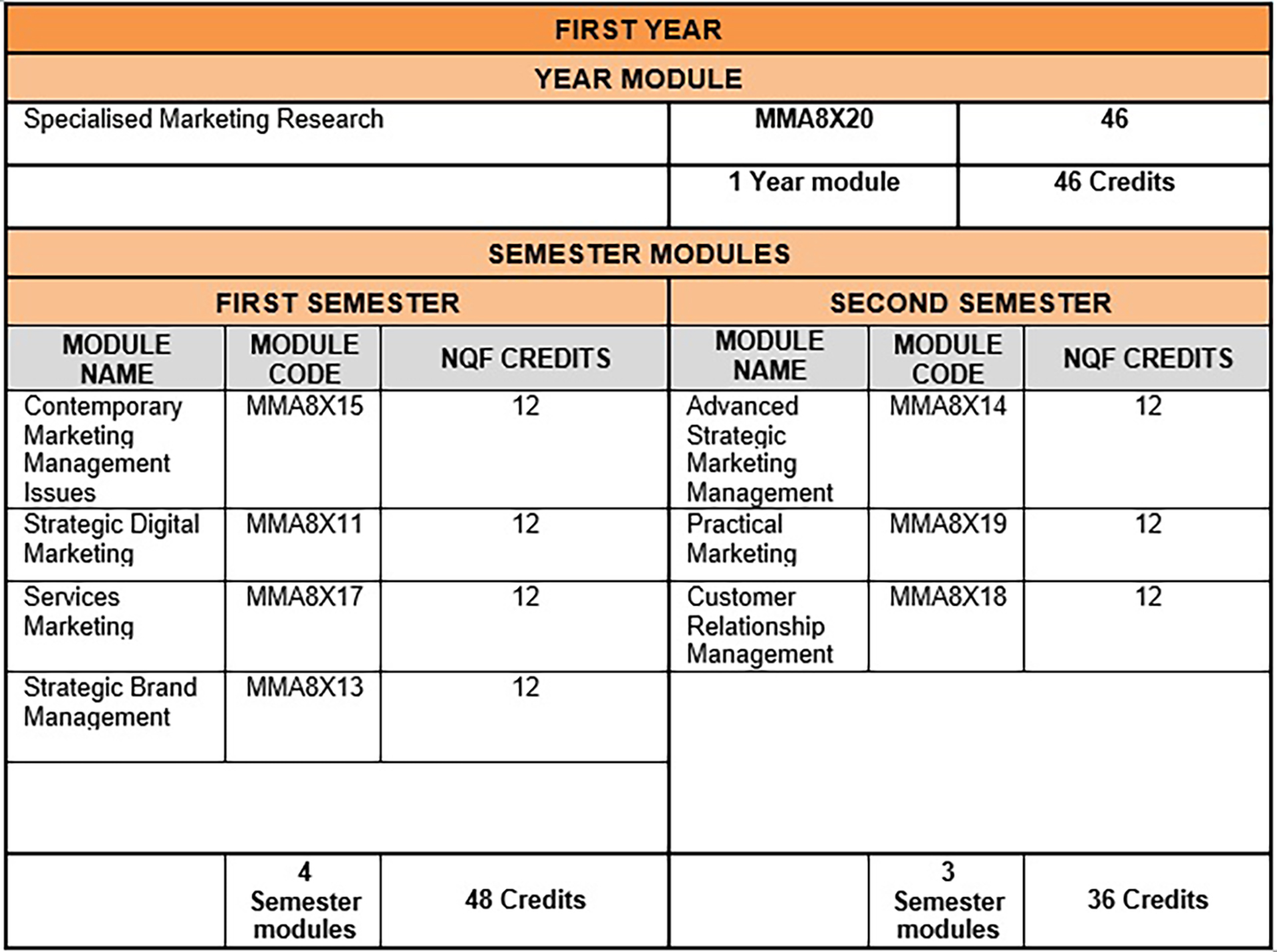 PART-TIME CURRICULUM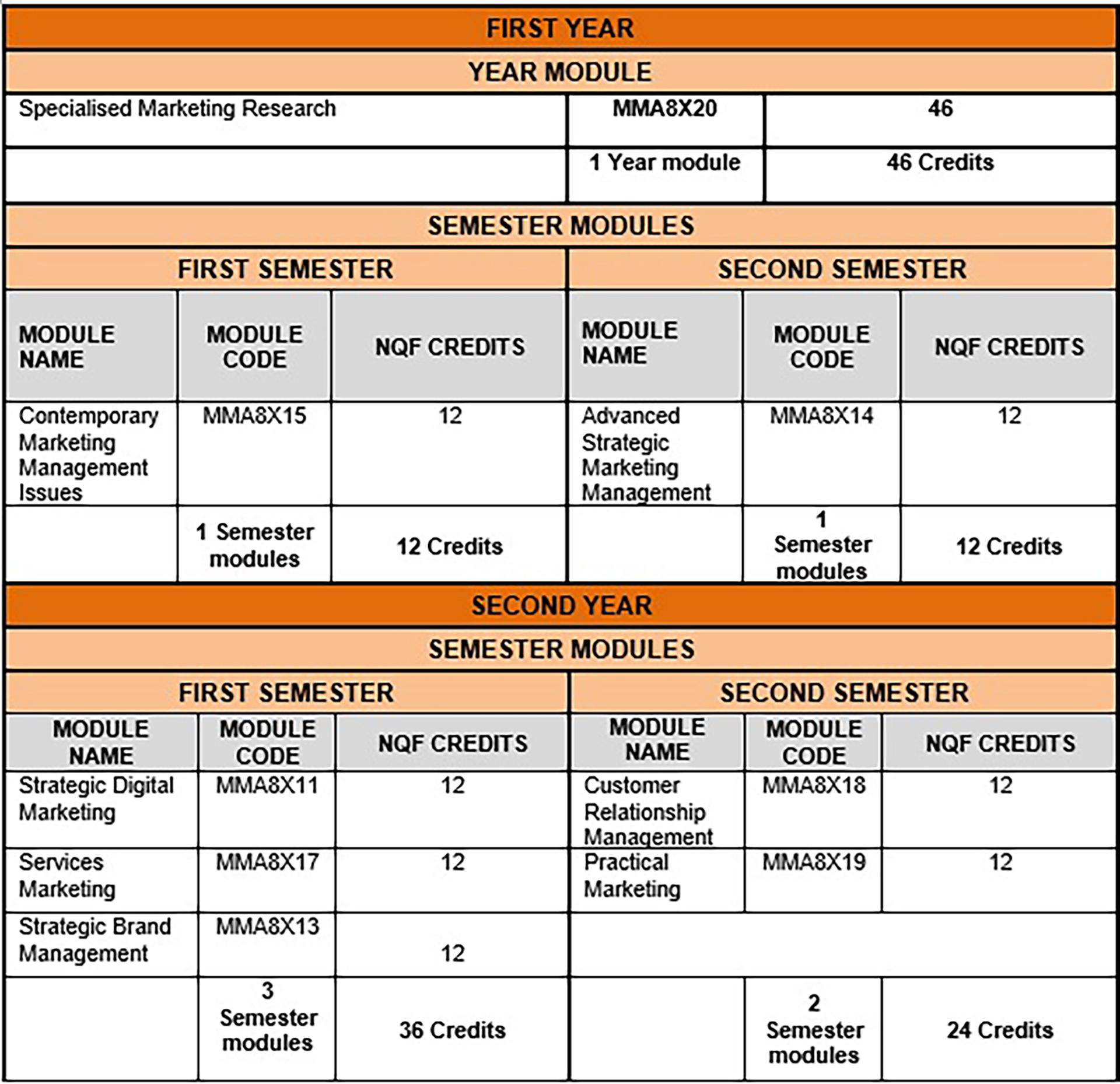 Career opportunities upon completion of the degree:
Brand Management
Account planning
Market Research
Digital Marketing
Sales
Customer Service
Relationship Management
Advertising
Public Relations
Media Planning
Marketing Consulting
Marketing Solutions and Strategies
Start your own Business

Further studies – Masters in Marketing Management 
Upon completing the BCom Honours in Marketing Management at UJ, you are eligible to apply for the Master's qualifications offered by the Department of Marketing Management. Please take note that acceptance into a Master's programme is subject to you meeting the minimum criteria. You can visit the Master's & PhD page here to learn more about our Master's degree offerings and to view the minimum criteria.

Ready to apply for the BCom Honours in Marketing Management? Click away – Apply now for the BCom Honours in Marketing Management. 
Keep the information from this page when you go offline by downloading the UJ BCom Honours Marketing Management brochure
Frequently aksed questions about the BCom Honours in Marketing Management degree: 
If I study part-time, can I select the modules I want to complete?
Unfortunately not. The programme is very structured and you are required to complete certain modules at certain stages of the degree. Please refer to the programme structure.
If I'm working full-time, will I be able to complete the programme on a full-time basis?
We don't recommend students who are working full-time to register on a full-time basis. The modules are made up of lots of group work and assignments which can be difficult to manage with a full-time job.
Are classes compulsory?
Yes. You can only be excused from 2 classes per semester in totality not 2 classes per subject.
I have or I'm studying towards a BCom but I do not meet the entrance requirements. Specifically I don't have any Research related modules or Strategic Marketing Management modules on 3rd year level (NQF 7). Can I still apply?
These modules are pre-requisites therefore you will not be considered for the programme. This is because students are expected to have a sound understanding of research and strategic marketing principles prior to entering the Honours programme. There have been cases where students have completed these modules at other institutions – however this does not guarantee acceptance into the programme as each application is reviewed based on merit. Please contact the Programme Co-ordinator, Ms Cunningham, should you require guidance.
My marks are below the 65% required but I do have work experience. Is this experience taken into consideration?
Work experience is taken into consideration to some extent but doesn't guarantee a place on the programme. Please email Ms Cunningham your academic record & CV before applying online.