Last Updated on August 28, 2023
School Of Music Auckland
Back in 1888 it was known as the Auckland University College, and offered a selection of academic music courses.
However, it wasn't until 1956 that the College established a proper music school. A qualification was introduced for performing musicians called the "Executant Diploma Course" – a first for New Zealand universities.
Temporary housing
At this time the Department of Music was 'temporarily' housed in a corrugated iron building on the site now known as the Barracks Wall Green.
Then in 1969 the department moved, again 'temporarily', into Pembridge, at 31 Princes Street. It would not have permanent housing for about another 17 years.
Permanent and award-winning
The 'permanent' School of Music building, which had been in discussion since the late 60s, was finally built in 1986 on a small site and a tight budget by Hill Manning Mitchell Architects.
Described by the judges as an "inventive and joyful work of architecture that… continues to communicate a sense of delight", the building was awarded the Enduring Architecture Award in 2013.
university of auckland school of music
Undergraduate programmes
Bachelor of Music: The Bachelor of Music (BMus) offers a range of study pathways including classical, contemporary and the theoretical aspects of music.
Conjoint degrees
You may choose to combine your BMus with another discipline. Find out more about our conjoint degree options:
Bachelor of Advanced Science (Honours)/Bachelor of Music
Bachelor of Arts/Bachelor of Music
Bachelor of Commerce/Bachelor of Music
Bachelor of Design/Bachelor of Music
Bachelor of Engineering (Honours)/Bachelor of Music
Bachelor of Global Studies/Bachelor of Music
Bachelor of Laws /Bachelor of Music
Bachelor of Music/Bachelor of Science
BMus Specialisations
For your BMus, you will select one specialisation. Learn about the options you can choose from:
Creative Practice: Classical – This specialisation offers individual and ensemble courses for all keyboard and orchestral instruments, guitar and voice.
Creative Practice: Composition – This specialisation explores the skills required to create music in today's world.
Creative Practice: Jazz – Your studies in this specialisation centre around improvisational-based music.
Creative Practice: Popular Music – The Creative Practice: Popular Music specialisation attracts aspiring songwriters and pop music performers.
Music Studies – Covering a wide range of sub-disciplines, including music production, music education, musicology and ensemble direction.
Postgraduate programmes
Bachelor of Music (Honours): Build upon the skills you learned in an undergraduate music degree with a year of focused study in your area of expertise.
Graduate Diploma in Music (GradDipMus): An introduction to postgraduate study for those from another discipline, or with industry experience looking to enhance their academic understanding of music.
Postgraduate Certificate in Music (PGCertMus): An introduction to postgraduate study in music. Ideal for furthering skills in your areas of musical interest and building a solid foundation for future masters study or career development.
Postgraduate Diploma in Music: Build upon your skills with a year of postgraduate study in your chosen specialisation.
Master of Music: Achieve excellence in your main field of musical interest with this internationally recognised qualification.
Doctoral study at the School of Music
The School of Music offers advanced research qualifications in the form of the following options:
Doctor of Philosophy (PhD)
PhD with Creative Practice
Supervisors
Academic staff at the School of Music have a wealth of experience and expertise in research across a broad range.
music degree auckland
Expand your musical technique and understanding within your choice of creative practice in classical, jazz, composition, or popular music specialisation, or in your music studies specialisation at New Zealand's largest tertiary music school.Apply nowfor Bachelor of MusicDurationFull-time: 3 yearsPart-time: VariesNext start date2022 Semester One – 28 February2023 Semester One – 27 FebruaryAvailable locationsCityPoints360Programme typeUndergraduateConjoint options available
Programme overview
In the BMus you'll learn to both preserve the past and nurture progress as you focus on your chosen discipline and prepare to enter a changing music industry. You'll learn from some of the finest instrument teachers in the country, as well as recognised music historians and composers. Our partnerships with industry organisations will give you contact with leading local and international musicians.
Through your involvement in our many small and large ensembles, tutorials and studio classes, you'll develop strong collaborative skills and grow your confidence.
You can study music alongside another discipline as part of a conjoint degree in Arts, Commerce, Advanced Science, Design, Engineering, Fine Arts, Global Studies, Law or Science.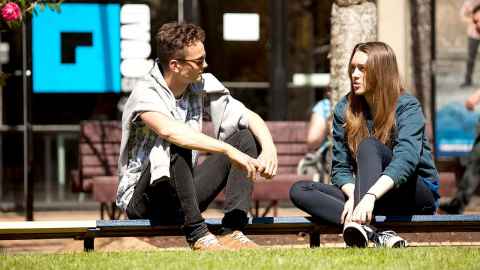 Programme structure
While each specialisation differs slightly, in the first year you will undertake a cross-genre music theory course, one in contemporary music culture, and a selection of other courses within your specialisation. Two General Education courses will give you the chance to supplement your studies with a topic of your choice.
In second year and beyond, you continue to develop within your specialisation and and you can explore areas of personal interest in complementary fields such as sonic arts, music education, production, and history.
More information regarding the programme structure can be found on the specialisation pages:
Creative Practice: Classical
Creative Practice: Composition
Creative Practice: Jazz 
Creative Practice: Popular Music
Music Studies
Most students need to take one or two General Education courses.
Students should also be aware of the University's Academic English Language Requirement. For all official programme information, including regulations about entry, enrolment, fees, examinations, and requirements for degrees, diplomas and certificates, see the University Calendar.
Where could this programme take you?
As a graduate you'll have the skills and expertise to pursue a wide range of career opportunities in New Zealand and overseas. Building a career on stage is a common goal, but the music industry runs on more than performers and composers. There is a collection of people who keep the industry moving, such as writers, managers, producers and teachers.
Jobs related to this programme
Arranger/composer
Arts administrator/manager/director
Conductor
Music director
Music journalist
Performer
Radio/television/digital media/recording producer
Sound engineer