Last Updated on December 14, 2022
SLU Scholarships for Freshmen
Scholarships are one of the most popular ways to pay for college, but did you know that most universities offer their own unique financial packages that can make school even more affordable? For example, Saint Louis University offers more than 10 SLU-specific scholarships and awards — and many of them don't even require you to submit anything other than your application in order to be considered.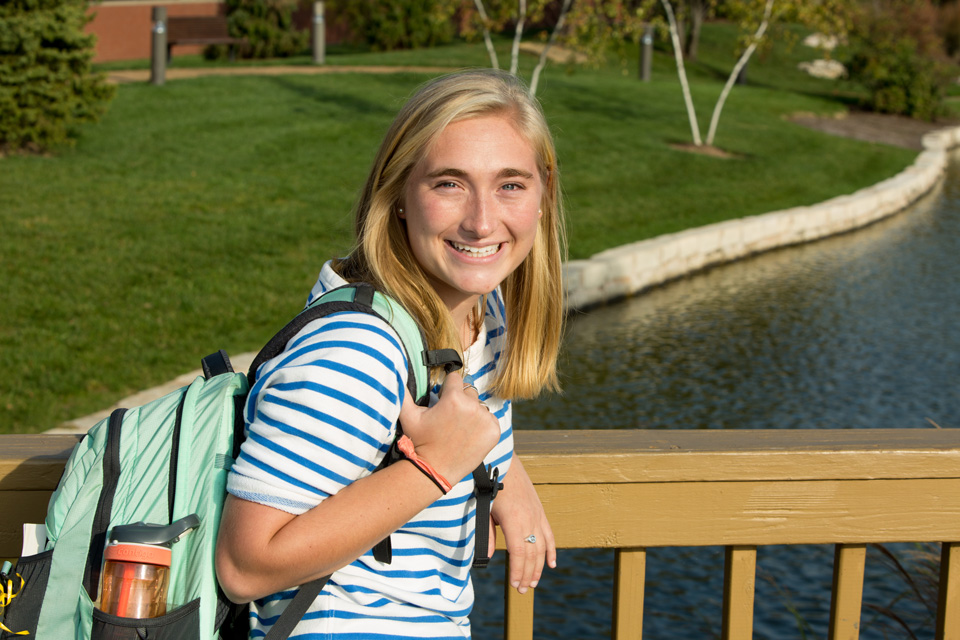 Four-Year Merit Scholarships
The Billiken, Ignatian, University, Deans' and Vice Presidents' scholarships are awarded to incoming freshmen based on your previous academic performance. ACT/SAT test scores are not required for domestic or international students, beginning with those applying for admission for fall 2021. You're automatically considered for these scholarships when you apply to SLU; no separate application is required.
SLU also offers two scholarships for first-time freshmen that require separate applications:
Presidential Scholarship
SLU's Presidential Scholarship is a four-year, full-tuition award. "This scholarship has made my education even more enjoyable because I can attend class and be a college student without having to be stressed about how I am going to pay for my education," said presidential scholar Sophie Roppolo. "The scholarship helps lift that weight off my shoulders."
To qualify for the Presidential Scholarship, ACT/SAT scores are not required, beginning with those applying for admission in fall 2021.
Martin Luther King Jr. Scholarship
SLU's Martin Luther King, Jr. Scholarship is granted to students who are committed to the promotion of diversity and social justice in our society and who demonstrate leadership in the classroom, on campus and in the greater community. It is a renewable four-year academic award. On average, MLK Scholars receive a total of $24,000 in scholarships and aid per year from the University for students entering in 2021. Transfer students are also eligible for the MLK Scholarship.
To qualify for the Martin Luther Kink Jr. Scholarship, ACT/SAT scores are not required, beginning with those applying for admission in fall 2021.
General Awards
Jesuit High School Award
All applicants who graduate from a Jesuit high school will automatically receive Saint Louis University's Jesuit High School Award, valued at $5,000 per year for students entering in 2021. While you don't need to fill out a separate application for this award, you should apply for admission to SLU by Dec. 1 for priority scholarship consideration.
Family Award
Have a sibling at SLU? SLU full-time undergraduate siblings are each eligible for a $3,000 award upon completion of a Family Award Application. Family Awards are renewable as long as multiple siblings remain full-time undergraduate students, but families must complete the application annually.
Saint Louis University National Merit Award
Saint Louis University collaborates with the National Merit Scholarship Corporation to fund a limited number of first-time freshman scholars each year. The National Merit Scholarship Corporation will determine how each student's scholarship is funded. If the scholarship is funded by Saint Louis University, the student will receive $2,000 in additional aid from Saint Louis University. In order to apply for this award, a student must list SLU as his/her first choice on the NMSC application and be admitted to SLU. Visit National Merit Scholarship Corporation for more info. Just remember — apply early to qualify for the most scholarship opportunities.
slu scholarship requirements
Eligible Countries: Applicants from all foreign countries are eligible to apply.
Eligible Course or Subjects: Undergraduate level degree programmes offered at SLU are eligible to apply for.
Eligibility Criteria: To be eligible, the applicants must meet all the following/given criteria:
The applicants must demonstrate successful academic progress.
How to Apply
How to Apply: Students can either apply to SLU via its Applicant Portal or through the Common Application
Supporting Documents: The students are required to present the following documents to the university:
High school transcripts
Letter of recommendation
Resume
Admission Requirements: Students must submit ACT or SAT scores.
Language Requirement: The students must submit scores of the following English language proficiency tests:
TOEFL PBT – 550
TOEFL IBT – 80
IELTS – 6.5
PTE – 64
Duolingo – 125
Benefits
The selected students will be given $15,000 per semester for up to 8 semesters of their undergraduate programme at SLU.