Last Updated on December 29, 2022
The Bachelor of Veterinary Medicine (BVetMed) programme is renowned throughout the world for its rigour and excellence, and if you are already a graduate or in your final year of a biological sciences degree, you can apply for the Graduate Accelerated programme.
The four-year programme enables you to supplement your existing skills, adding to the preclinical science information covered by a previous biological science degree. On this course, you will complete an introductory graduate transition year, where you will study the principles of animal form and function, infections and responses, and animal husbandry. On completion of the transition year, you will be fast-tracked on to the BVetMed course at the start of the third year.
The Bachelor of Veterinary Medicine course is delivered across both of our campuses. If you are studying the Graduate Accelerated programme, you will be primarily based at our Hawkshead Campus.https://www.youtube.com/embed/lgL-uUYVSjY?enablejsapi=1&origin=https%3A%2F%2Fwww.rvc.ac.uk
---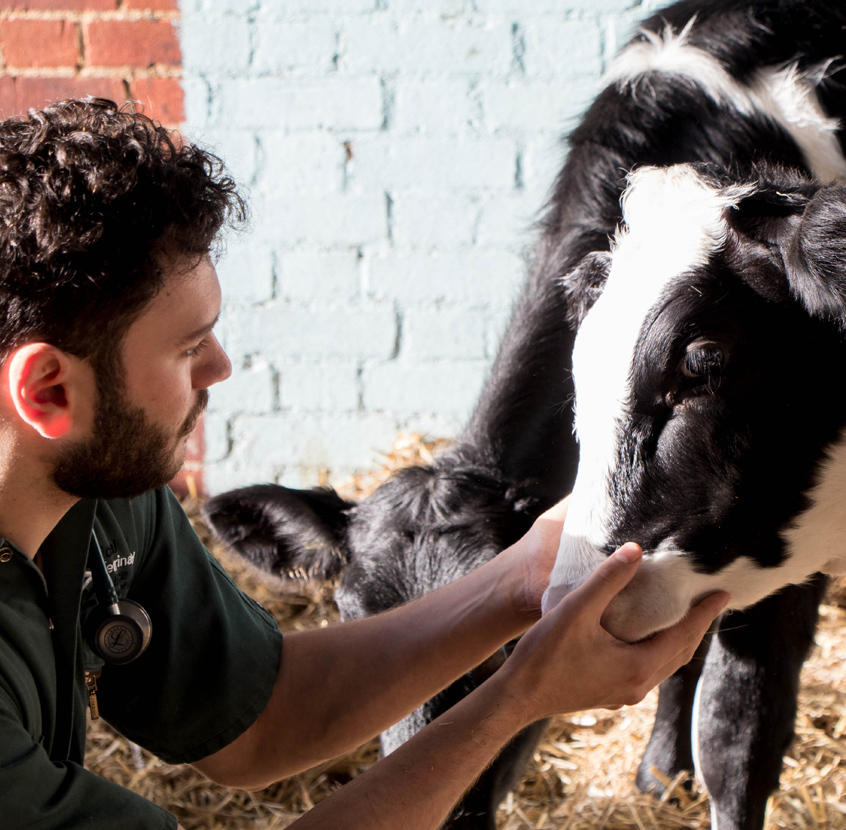 "Veterinary medicine combines the perfect mix of problem solving, hands on work, a continuously advancing field and the possibility of working with a variety of species in a single day. The opportunities to work outdoors and play with cute baby animals are an added bonus!
"My favourite part of the Graduate Accelerated course is the practical-heavy style of teaching. As a hands-on learner, being in the dissection room, histology labs and on the farm multiple times a week was vital to my understanding of the material we were taught in lectures.
"Studying veterinary medicine is not an easy task, but if it's what you love, in a place you love, you're bound to have an amazing time."
Dylan Yaffy, Graduate Accelerated Bachelor of Veterinary Medicine
Accreditation
We were the first veterinary school in the world to achieve full accreditation by the European Association of Establishments for Veterinary Education (EAEVE) and the American Veterinary Medical Association (AVMA), and full recognition by the UK's Royal College of Veterinary Surgeons (RCVS), as well as a reciprocal arrangement between the RCVS and the Australasian Veterinary Boards Council Inc (AVBC). Currently we hold full recognition or accreditation from RCVS, AVBC and AVMA and conditional from EAEVE.
What does this mean for you? It means that when you graduate in veterinary medicine at the RVC, you will be qualified to practise in Europe, North America and many Asian and African countries, as well as Australia and New Zealand – a real advantage for those looking to develop an international career.
Sign up to hear more from RVC
If you're interested in studying this course, and would like to stay informed, sign up to our RVC For Me mailing list to receive relevant information about upcoming events, students stories and life at the Royal Veterinary College.