Last Updated on December 23, 2022
Post Graduate Diploma in Pharmaceutical Regulatory Affairs
A regulatory affair is important but at the same time most dynamic job area in the healthcare industry. Each new case, new invention, new process and new need marks the change of some old regulation and even advent of some new ones. The category wise description is huge, taking into glance the product divisions, manufacturing processes, techniques and activities involved in healthcare product manufacturing and each category has a set of individual regulations to abide by along with the common rules, applicable to all classes of products and industries.
In this scenario, the huge knowledge base with added fringe of its dynamicity makes learning an on-going and essential feature for anybody targeting to sustain and grow in the industry. Post Graduate Diploma course does the same by familiarising the participant to the:
– Basics of the industry;
– History of regulations and regulatory bodies;
– On-going trends and guidelines for the varied sectors of the industry (drugs, food, beverages, biotech, cosmetics etc.);
– Change susceptible areas, compliance rules;
– Inter-state deviations in rules and challenges of the industry.
The course is meant for Graduates and Post Graduates, employed plus yet to be employed candidates keen on taking Regulatory affairs as their career choice.
Module 1 : Introduction to Global Regulatory Authorities for pharma and healthcare industries
Module 2 : Drug Development Process, Clinical Trials and related norms and regulations
Module 3: GMP and other good practices (International perspective of USA, WHO, ICH & Europe / Australia & New Zealand / Gulf Countries (GCC) / Canada / Africa / India etc)
Module 4: Documentation of drug trials and regulatory filings in US, Europe, UK, India, Japan, Canada, Australia, South Africa, etc.
Module 5: Quality Assurance and Drug Regulations, ICH and WHO guidelines
Module 6: Dossier preparation in CTD format, eCTD submissions
Module 7: Healthcare Industry IPR, Patents, copyrights and Trademarks
Module 8: Pharma and Healthcare products- Marketing, Import and Export regulations
Module 9: Compliance guidelines, Govt. Audits (FDA, MHRA, PMDA, TGA, DCG, etc) and Breach reports
Module 10: Indian GMP Regulations
Module 11: Drug Registration in African Countries.
Module 12: Drug Registration in Gulf (GCC) Countries.
Module 13: AYUSH Regulatory Affairs (Ayurveda, Unani, Siddha, Homeopathy, Yoga and Naturopathy)
Module 14: Industry specific case studies
After completion of the course, participant is expected to have in-depth knowledge and understanding of concept of generic drug and innovator, drug discovery and development , Regulatory strategy, approval process of all regulatory filings in various countries, filing process of IND, NDA and ANDA, IMPD, and Investigator Brochure (IB), DMF, US Hatch-Waxmn Act and code of federal regulations (CFR), US registration for foreign drugs, Europe IMPD, marketing authorization application (MAA), Centralized procedure, bioequivalence and drug product assessment-in vivo, Manufacturing and Controls (CMC) and their regulatory importance, Submission of global documents (CTD/eCTD), Filing process in India-IND, NDA, Clinical trials ( Schedule Y) etc
Eligibility
Graduation/ B.tech/ B.Sc. in Microbiology/ Life Sciences/ Botany/ Zoology/ Food Science/ Food Technology/ BE/ B.Pharma/ MBBS/ BDS/ BHS/ BUMS/ BAMS or any other discipline. Diploma holders are eligible for our Executive Diploma, Industry Certificate, and Certificate Programmes.
Programme Duration
Minimum time in which a student can complete this diploma course is one year while a maximum of two consecutive years is allowed to complete the course.
Registration
The registration dates for this bi-annual executive programme run by the Institute are updated timely on the webpage. Effective E-learning tools incorporated into the design of the webpage make the course lectures, online live classes and study material easily accessible. This gives a huge window of self-regulated and self-paced performance to the participants.
Programme Deliverables
A comprehensive study material for all the modules in hard copies ensuring the needs of the audience. The accompanying training material is appropriately aligned with the current Industry's expectations.
– Assignments for all the programme modules for continuous evaluation and guidance.
– Interactive or online live sessions on all key areas of the programme giving all flexibility to the participants.
– Online classes for all the modules will be conducted on the weekends. Moreover, a doubt clearing session will also be scheduled before the examination.
– All the efforts are made by IGMPI faculty members to make the entire programme modules easily understandable.
– Assessment and evaluation for all the programme modules in order to enhance the levels of competencies and skills of the participants leading towards the objective of application in the job.
– At the end of each programme modules, the trainers shall obtain feedback from the participants using specially designed questionnaires.
– All learning and training delivery initiatives shall be conducted in English.
Examination & Certification
IGMPI follows a credit system based on all learning activities involved in studying for all PG Diploma, Executive Diploma and Certificate Programmes. Each of your modules is equal to 4 credits. To successfully complete the programme, you will have to earn all the credits assigned to your programme.
All the participants are obliged to timely submit completed assessment assignments (during the course, usually after every module) and appear for an online exam at the end of the course. After successful completion, the participants will be awarded Post Graduate Diploma in Pharmaceutical Regulatory Affairs by Faculty of Good Manufacturing Practice, IGMPI. For all the above mentioned modules elaborate course material, self-assessment assignments and project work details would be provided by the Institute from time to time. Details get updated on the webpage as well.
Placement Assistance & Corporate Relations
The Institute has partnered with many organizations for providing with placement assistance to in its participants. The robust placement cell comprises of senior level Human Resources professionals and Talent Acquisition experts which maintains close links with business and industry. We are engaged in promoting the employability of our participants by maintaining good rapport and relation with HR cell and recruiting managers of leading healthcare companies across the globe.

The efforts of our placement cell also include helping with professional resume writing, interview skills & conducting mock interviews etc.

In recent months the Institute has witnessed more and more participation from professionals working with global pharmaceutical giants like Mankind Pharma Ltd, GSK Ltd, Syngene International, Torrent Pharmaceuticals, Jubilant LifeSciences Ltd, Granules India Ltd, Dr Reddy's Laboratories, Ipca Laboratories, Sun Pharma Ltd, Glenmark Generics, Aurobindo Pharma Ltd, Abbott Healthcare Pvt Ltd, Cipla Ltd , Natco Pharma , Mylan Laboratories etc.
Future career prospects of Pharmaceutical Regulatory affairs Training
IGMPIs e/distance course is a professional course targeted to cater the industry needs trained regulatory affair professionals. The information, guidance, practical training and off course completion certificate will provide the participant with not one but many opportunities in the industry. this would come true in form of job roles and positions like that of Regulatory affair auditor or personnel in reputed pharmaceutical companies, cosmetic manufacturing units, Food and Food supplement manufacturers, biotechnology companies and many alike. Apart from this, the industry needs experienced and learned regulatory affair officers for Govt. compliance issues, product registration and approval issues, process documentation etc. Also, Govt. sector has upcoming need for RA professionals to assist as officers and audit inspectors.
Pharmaceutical Regulatory Affairs
Program Duration
Domestic: 40 Weeks
International: 52 Weeks
2021 Start Dates
January, March, June and September
Certificate
Ontario Post-Graduate Diploma (Dip.Pharm.RA)
Schedule
Mon – Thu: 9:00am – 3:30pm
Fri: 9:00am – 2:00pm
COVID-19 Vaccination Policy
All TIPT programs are running through either on-campus or hybrid virtual learning options, in accordance with our policy.Read the Policy »
Next Start Date:
Monday January 17, 2022
 Apply (Domestic)Apply (International) 
Application Deadline:
60Days01Hour43Minutes10Seconds
Download the TIPT Regulatory Affairs digital brochure to learn more about the program, course syllabus, and career options.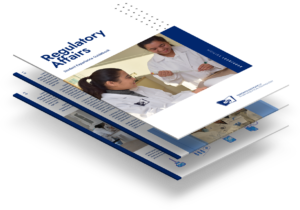 Download PDF 
Contact Us
Request Information Book a Tour 
The Pharmaceutical Regulatory Affairs diploma is a program that provides a practical understanding of the regulatory approval and communication processes involving pharmaceutical and biotechnology drugs as well as natural health products and medical devices.
Overview
Curriculum
Practical Experience
Admission, Fees & Schedule
While the primary emphasis is on regulatory affairs as it applies in North America under the Canadian Health Products and Food Branch (HPFB) and the US Food and Drugs Administration (FDA), our students also learn the regulations in other major jurisdictions such as Europe, Japan and Australia. You will acquire knowledge of international health care system, health care legislation, procedures and practices for regulating the development, manufacture, quality assurance and marketing of health care products.
In just under one year, you can gain the specialized knowledge and practical skills for a lucrative and rewarding career helping to bring new pharmaceutical, biotechnology, natural health, and medical device products to both domestic and international markets. Graduates develop the expertise to work in this challenging area in a variety of roles across the pharmaceutical, biotechnology, medical device, food, cosmetics, natural product, nutraceutical, and other life-science industries.
Program Highlights
eCTD workshops on real drug submissions
Industry relevant training
Training in Health Canada submissions
Small classes optimizing interaction
High employment placement
High entry level salary
From the Classroom to your Career
The career paths of our graduates lead them to high-paying jobs in various industries including pharmaceutical, biopharmaceutical, biotechnology, advanced-drug delivery, medical devices, food, cosmetics, natural product, nutraceutical and other life science industries.
Graduates of this program secure employment in positions such as a:
Regulatory Affairs Associate
Regulatory Affairs Specialist
Regulatory Affairs Officer
Technical Writer
Documentation Specialist