Last Updated on August 28, 2023
If you are seeking to learn about persian summer language program for the first time, the subject might seem overpowering for those who have not researched the subject before, but you are likely to be fascinated by the information you come across. 
Read more about Curriculum and Classes, Summer Persian Courses, Scholarships and Courses Offered, Program Highlights. You can also find articles related to persian summer language courses on collegelearners.

The Persian Language Summer Institute implements an innovative language curriculum, creating a rich learning environment that simulates immersion while on campus.
During the program, students effectively live in a Persian-speaking environment during their time at Maryland, with approximately seven hours a day of structured language-learning experiences.
Students also gain language exposure through language partner hours with an Advanced Persian speaker.
The average student attending will have made a serious, long-term commitment to learning Persian, be prepared to study intensively for about nine weeks, and be performing well academically at his or her home institution.
Courses are part of the University's Summer Term, follow University policies and procedures, and are subject to change. The University reserves the right to cancel courses due to insufficient enrollment or for other reasons it deems necessary.
Curriculum and Classes
The Summer Institute will run in two sessions, and students may apply to one or both sessions. (Preference for admission will be given to students who are applying for the entire nine week summer program).
Summer 2022 Program Dates: May 31 – July 29, 2022
Session 1: May 31 – July 1, 2022
Session 2: July 5 – July 29, 2022
Students will participate daily in core classes, which will focus on principle language instruction: reading, writing, listening, and speaking, as well as afternoon courses with a specialized focus on culture, politics, media, etc. Our small class sizes (~15 or less) and use of materials developed specifically for an intensive environment will allow attendees to complete a full academic year (12 academic credits) of language study across all areas of language learning.
For UMD Arabic majors and minors, please click here to learn more about how these credits will apply to your degree program.
Summer Persian Courses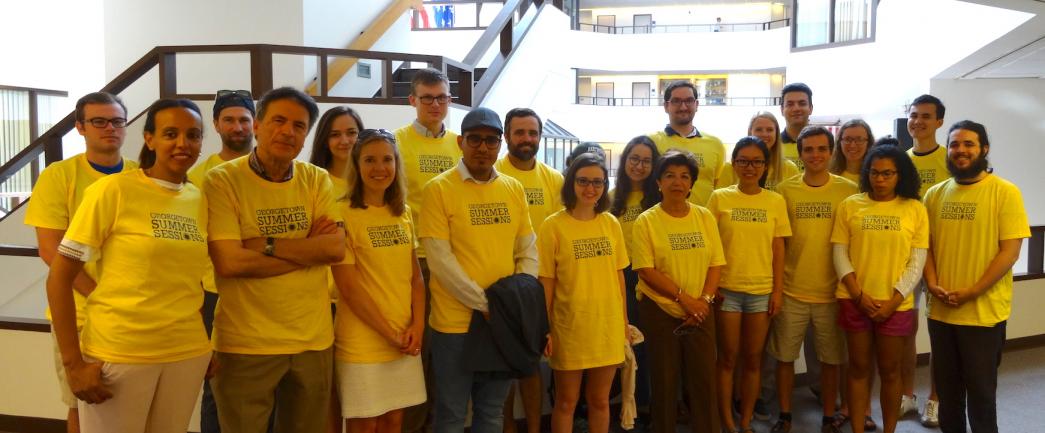 The Persian Studies summer courses offer students the opportunity to acquire or master skills in reading, writing, listening, and speaking in Persian. Language instruction is proficiency-oriented and imparts cultural experiences and knowledge. The materials used are broad-based and help students develop skills for communication. Students learn how to accomplish language tasks in formal and informal situations. Assessments reflect the model of an educated native speaker as well as proficiency (American Council on the Teaching of Foreign Language: ACTFL) guidelines.
Classes are small and students benefit from individual attention inside and outside the classroom. Experienced, dedicated, and diverse faculty use current techniques and incorporate technology-based instruction. Summer courses provide real-time and on-demand access to current media resources and the latest in classroom language learning technology. They offer students a gateway to an exceptional academic community at Georgetown University, a range of summer activities in the Summer School, and state-of-the-art language opportunities.
Scholarships
Partial Tuition Scholarships are available for Visiting Students.
Graduate School Language Scholarships are available for Georgetown Graduate Students.
Consortium and Georgetown students are eligible to receive FLAS Scholarships, due to the intensive classes plus the extracurricular activities outside of the classroom that are part of the program.
Courses offered
Intensive 1st Level Persian
Intensive Intermediate Persian
Advanced Persian
Program Highlights
Persian studies summer courses are intensive and offer 3 hours of daily instructional contact for 4 days and award 5 credits. Hybrid courses allow students to participate via Zoom conferencing as long as they are within the same or similar time zone.