Last Updated on August 28, 2023
MSc in
Marketing & Creativity
ENTRY LEVEL:
Bachelor or Master degree (minimum 180 ECTS) with a minimum of 18 months of working experience
DURATION:
18-21 months (full time)
LANGUAGE OF INSTRUCTION:
English
CAREERS:
€44.4K average starting salary worldwide
Master of Science (MSc)
MARKETING & CREATIVITY SPECIALISATION
A strategic and innovative MSc that places creativity at its core, and combines marketing knowledge with advanced management and analytical skills.
PROGRAMME OBJECTIVES
The specialisation in Marketing & Creativity is part of the Master Degree (DEAMIE)*.
The MSc in Marketing & Creativity is unique in its focus on the interface between creativity and analytical thinking in marketing management. It deploys multiple approaches to marketing through its case- and project-based #NotByTheBook teaching methodology, preparing the next generation of strategic, responsible, competent and creative marketers.https://www.youtube.com/embed/ODEgtMw8cz4?rel=0&showinfo=0&color=white
The MSc in Marketing & Creativity curriculum goes beyond textbooks to incorporate consultancy projects, creative seminars with corporate partners, case studies, experience in emerging markets, and guest speakers, as well as a minimum four-month professional experience (internship/direct employment) which allows participants to immediately apply their learnings to real-life companies and assignments.
The specialisation fosters creativity and critical thinking with a methodological and systematic approach. It teaches how to be strategic and analytical in a data-driven world to provide innovative solutions to complex problems, while also teaching students about creativity in business, management and performance, developing their cognitive flexibility, fluency of ideas and agility.
Students spend the majority of their time in the vibrant city of London. This is followed with one term hosted at the Paris campus, thereby allowing them to benefit from two of the world's most recognised centres of creative excellence.
The combination of a unique specialisation focus, teaching methodology, interaction with experts, and up-to-date content in marketing equips MSc in Marketing & Creativity students with one of the most striking, thought-provoking and – above all – career-broadening Marketing masters currently available.
Wondering if this MSc is right for you? Check your eligibility and career-progression fit by taking this 4-minute quiz.
CAREER OPPORTUNITIES
At national and international level: Brand Manager, Marketing Manager, Product Manager, Strategic Marketing Manager, Digital Marketing Manager, Account Executive/Manager/Director, Senior Consultant, CEO, Consultant, Business Development Manager, Executive Director, Head of Marketing/Innovation, International Project Manager, Marketing Executive, Senior Client Manager, E-Commerce Manager, Brand Communications Manager.
PARTICIPANT BACKGROUNDS (CLASS OF 2022)
ALUMNI TESTIMONIALS

"In just one year, I had the chance to live in three countries (including a programme trip to Uganda), read more than 50 case studies, present 12 projects, and secure a good internship with Johnson & Johnson in Paris. It was a big stretch but also great fun, which made it absolutely worth it."
Romy MOUZANNAR
Brand Manager at Butcher's Pet Care
Class of 2012

"The most rewarding yet challenging part of the programme was the group work, during which we collaborated with individuals from a range of nationalities and professional backgrounds to solve business challenges in a creative way. Sharing insights and learning about diverse approaches was a truly enriching experience."
Edilia GÄNZ
Director of FEDORA – The European Circle of Philanthropists of Opera and Ballet
Class of 2013
SCIENTIFIC DIRECTORS
---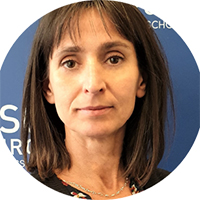 Daniela LUP
Academic Director, MSc in Marketing and Creativity
Associate Professor of Management
Research areas: future of work, diversity and inclusion, teams and team creativity, prosocial behaviour and ethics.
---

Marie TAILLARD
Professor in the Department of Marketing
Director of the Creativity Marketing Centre
Doctoral degree PhD, Linguistics University College London, U. of London
Research areas: marketing management and consumer behaviour, relationships between stakeholders in organisations, change management and digitalisation, intercultural communication.
*ABOUT THE MASTER DEGREE (DEAMIE)
Joining this full-time Master of Science corresponds to the determination to pursue a defined professional project and gives young graduates and young executives a combination of high value skills sought by recruiters. This MSc provides academic expertise and presentation of the best professional practices. Our goal is to train experts who will be rapidly able to progress in a globalised world.
Students will obtain one degree, the French Master degree (DEAMIE), and one diploma, the MSc in Marketing & Creativity.Curriculum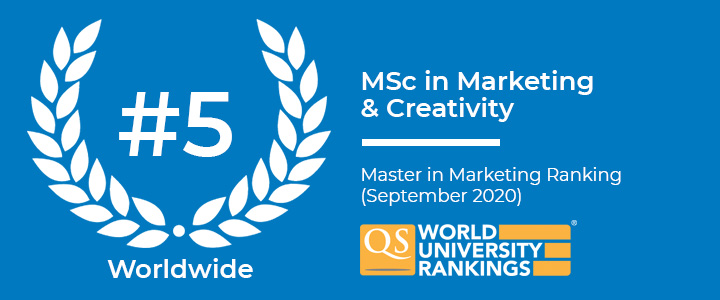 INFO
SESSION
THURSDAY 26TH AUGUST
4.30PM BST (5.30PM CEST)
INFORMATION
ON VISAS
The Creativity Marketing Centre is a platform for thought-leadership and knowledge exchange on the role of creativity as a driving force of value in marketing.

The Centre brings together academics, marketing practitioners and experts from all sectors, eager to participate in harnessing creativity to rethink the rules of the game in marketing. The Centre engages in cutting-edge academic research on creativity and its role in strategic rethinking and marketing.