Last Updated on January 18, 2023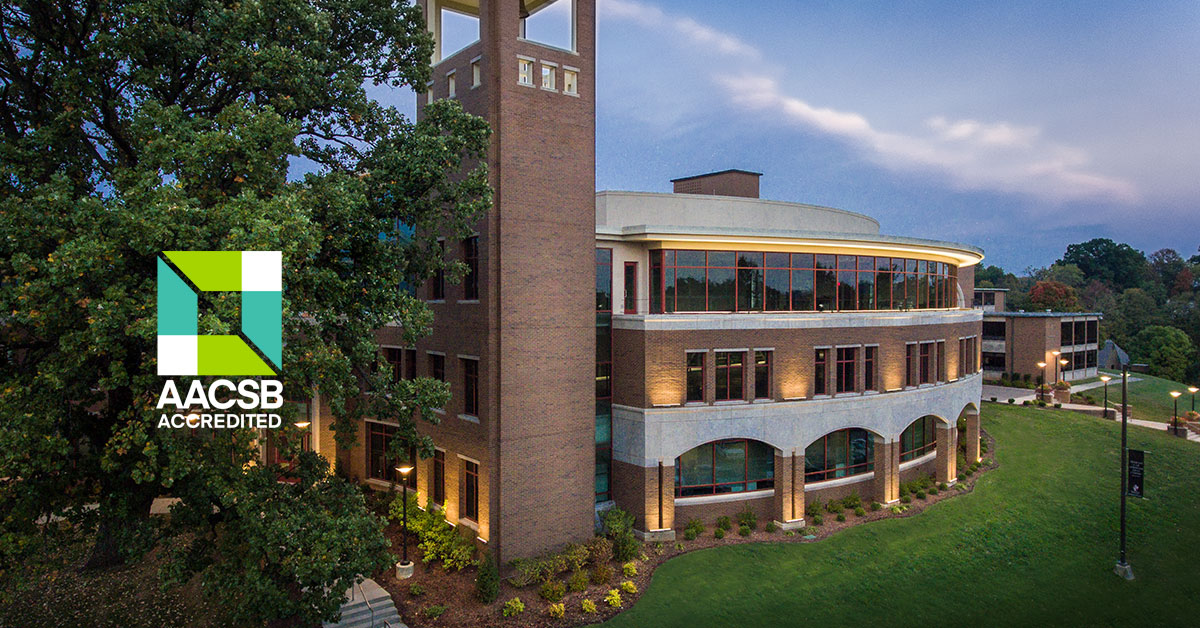 Business leaders need expert managers with vision, leadership and a strong sense of ethics. The Bellarmine MBA provides students foundational business principles to advance careers now and provide security for the future. Customize your MBA experience with our flexible programming and choose from concentrations in Analytics, Finance, Marketing or Innovation.
A cozy business school in Louisville, Kentucky, Bellarmine University offers individual attention and personal growth within a practical MBA curriculum. The "small-school atmosphere and small classroom sizes" are a huge benefit of this program, allowing students to build close relationships with their professors and classmates. Academically, collaboration is a key aspect of the Bellarmine experience, and from the beginning of the program, "everything is team based." To encourage group problem solving, networking, and interaction, "Bellarmine groups its students into cohorts of four or five," and they take all core courses together. In fact, the program is designed to help students round out their qualitative abilities, and the curriculum places a strong "emphasis on improving student's writing, speaking, presentation, and teamwork skills." In the classroom setting, professors are "good at facilitating meaningful class discussions," which bring each student's experience to light. A current student agrees, "The cohort design and grouping throughout the weekend program has increased my team-building skills."
Bellarmine's faculty comprises "published and scholarly professors," who have a strong understanding of business theory. Nonetheless, real world skills are emphasized over academic analysis, and students are pushed to "learn through case studies in a team-oriented environment." Don't expect to lean back and snooze through a lecture; courses are discussion based and, often, small groups "lead case study discussions for the entire class." Bellarmine has deep ties in the local metropolis. "One of Bellarmine's advantages is that a majority of its professors have great career experience, and some are still working in the Louisville area." A student recounts, "We have accounting teachers who have headed departments for Deloitte; IRS Tax Attorneys teaching tax and business law; and a lawyer/econ Ph.D. who teaches economics and how to do business in non-capitalistic countries." Although the school "could offer a wider variety of MBA electives," students appreciate the varied experience faculty members bring to the classroom. Class work is often augmented by the invitation of special "speakers and contributors, who are able to share more recent 'real world' experiences" with the student body.
For working professionals, the Bellarmine MBA program is flexible, allowing students to tailor coursework to fit their busy schedules. Depending on the pace in which you complete coursework, the MBA can take anywhere from two to five years to complete. Classes are held in the evenings and on weekends. "The convenience is great for someone looking to go to school part time." Overall, the program is "very well run, with minimal red tape." When it comes to planning your schedule or paying your bills, "the administration is wonderful to work with, very helpful, and makes things easier on students." A "personal touch" distinguishes the experience, and "staff, faculty, and administration care about the students and their success."
Overview
Applicants: 59
Acceptance Rate: 68%
Average Undergrad GPA 3.20
Years Work Experience: 2
Average Age: 24
Test Scores
GMAT (25th and 75th percentiles)390 – 540GPA3.0 – 3.5
Deadlines
Rolling Admission DeadlineAugust 1
Other Admission Factors
Academic
---
GMAT Score
---
Undergraduate GPANon-Academic
---
School Type And Accreditation
School TypePrivate
---
AACSB-approvedYes
Selectivity Rating
Admissions selectivity rating
84
Why the Bellarmine MBA?
Real-world experience: The students in our program are your cohort and peers. They are some of the most well connected, aspiring business people in the region and the future leaders of Louisville's business community.
Engaged faculty: Our faculty comprises the best of both worlds: accredited academic pros with decades of experience teaching best business practices, as well as business owners and corporate executives: men and women who understand both the classroom and the boardroom.
Networking: Bellarmine faculty and students are Louisville business masters through and through. As an MBA student at Bellarmine you will know somebody who knows somebody from day one.
Advancement and Security: You're an intelligent, self-motivated person who understands business principles. Double down on your self-investment with a Bellarmine MBA for immediate payoff and long-term security.
International Experience: This course exposes students to the influences of political, social, legal and regulatory issues of managing in a global environment through on-site experience in a foreign country. Counties MBA students visits are, Cuba, Italy, Switzerland, France, and Germany.
AACSB Accreditation
AACSB Accreditation
The W. Fielding Rubel School of Business at Bellarmine University is accredited by the AACSB International (Association to Advance Collegiate Schools of Business), which places it among the most elite business schools in the nation. Not only is Bellarmine the first and only private university in Kentucky to achieve AACSB accreditation, but fewer than 5 percent of business schools worldwide have achieved this distinction.Program Highlights
Program Highlights
Whether you choose the flexibility of our weeknight program, the accelerated pace of our weekend program, the data focus of our analytics concentration or you are qualified for our prestigious executive program, you will benefit from full time faculty with real world experience who instill practical business solutions throughout the curriculum. Our program is competitive, affordable and offers you the Bellarmine advantage in a flexible, online format:
Ability to graduate in 12-22 months
Only 39 credit hours to completion
No prerequisites or course examinations
Classroom learning
Exposure to global businesses
Participate in our graduate mentorship program
Possible GMAT waiver
Attend networking events
Lifetime access to Alumni Knight Network and the Bellarmine Career Development Center
Full-time MBA internships also available
Admission Requirements
Admission Requirements
Applicants are carefully evaluated for admittance into the MBA program on three significant factors – undergraduate grade point average (GPA), Graduate Management Admissions Test (GMAT)/Graduate Record Exam (GRE) scores maybe required, and relevant work experience. Applicants must hold a bachelor's degree (with the exception of BA/MBA applicants). Applicants must submit official transcripts of all undergraduate and graduate work.Additional Resources
Bellarmine University (Rubel) 2022 Rankings
Bellarmine University (Rubel) is Unranked in Best Business Schools and No. 206-273 in Part-time MBA. Schools are ranked according to their performance across a set of widely accepted indicators of excellence.
Business School Program Rankings
UnrankedinBest Business Schools
#206-273inPart-time MBA
Bellarmine University at Bellarmine University
Research the Bellarmine University at Bellarmine University MBA program. Compare it to the other MBA Programs offered in Kentucky, to online MBA programs and to MBA programs offered in the United States for:
Affordability
GMAT Requirements
Alumni Strength
Faculty Strength
Enrollment Numbers
Student Population
Rankings
Concentrations Offered
More
Affordability and GMAT Comparisons
Cost of Tuition
In-State Tuition for Bellarmine University's MBA Program: N/R*
Kentucky's Average In-State Tuition: $23,411
National Average In-State Tuition: $38,087
Online Average In-State Tuition: $34,774
GMAT Scores
Average GMAT Score for Bellarmine University's MBA Program: 460
Kentucky's Average MBA GMAT Scores: 503.50
National Average for MBA GMAT Scores: 557.75
Online Average for MBA GMAT Scores: 553.19
MBA Concentrations offered from Bellarmine University's Bellarmine University include Accounting, Consulting, Economics, Finance, General Business, Innovation, Leadership, Management, Marketing, Public Administration, Statistics and Taxation and you can attend their MBA program Campus, Evenings and Weekends, Full-Time, Online and Part-Time.
Concentrations from Kentucky's other MBA programs include Accounting, Finance, Marketing, Information Systems, General Business, Management, Entrepreneurship, International Business, Economics, Leadership, Statistics, Supply Chain, Data Analytics, Healthcare Administration, Sports Management, Real Estate, Strategic Management, Manufacturing, Science and Technology, Taxation, Consulting, Ethics, Arts, Insurance, Innovation, Nonprofit, Operations Management, Organizational Behavior, Public Administration, Quantitative Methods, Human Resources, Education, E-Commerce, Communications, Sustainability and Law.
Ranking and Reputation: Bellarmine University's MBA program is accredited by the AACSB and is ranked by the following publications: MBAGuide
In-state tuition and fees for the MBA program at Bellarmine University is not available at time of publishing*. Of all MBA programs offered in Kentucky, the average cost for in-state tuition and fees is $23,411 a year. The average cost for in-state tuition and fees for an online MBA program is $34,774 a year.
The average GMAT score to enter into Bellarmine University is 460 while the average GMAT score to for MBA schools in Kentucky is 503.50, and the average GMAT score to enter into an online GMAT program is 553.19.